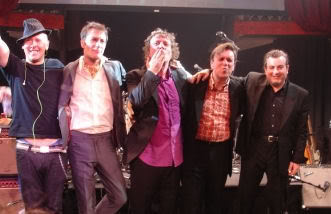 Well, maybe 1988 is over, but 1981? Squeeze on Pier 84 in the Summer of 1981 is one of my favorite old concert experiences. The current reunion tour is essentially to promote the re-release of the back catalog and the new compilation Essential Squeeze. Chris Difford and Glenn Tilbrook have written some of the most engaging and enjoyable pop songs in the last three decades, and the songs still hold up particularly well as the best of them were performed tonight.
I recorded this concert from the middle of the floor, using my clip-on microphones. This recording was not captured with pro-quality equipment, and it generally does not measure up to the sonic standards of other recordings on this site. However, it is certainly an enjoyable listen of a terrific concert.
The photograph above is courtesy of the excellent Squeeze fan site Packet of Three.
This recording is no longer available at nyctaper. I'm sure you can find it somewhere on the web if you look hard enough.
Squeeze
2007-08-02
Nokia Theatre
New York, NY USA
Digital Master Audience Recording
Recorded from Front of Board
Center of the Floor
approximately 30 feet from PA
Core Sound Cardiods > M-Audio Microtrack 24/96 > flac
Premiere Download offered at nyctaper
Setlist:
[Total Time 1:39:29]
01 Take Me I'm Yours
02 Slightly Drunk
03 Piccadilly
04 Hourglass
05 Up the Junction
06 I Think I'm Go Go
07 Third Rail
08 Electric Trains
09 Some Fantastic Place
10 Annie Get Your Gun
11 Melody Motel
12 Messed Around
13 Walk Away
14 Slaughtered, Gutted and Heartbroken
15 Another Nail in My Heart
16 Goodbye Girl
17 If I Didn't Love You
18 Pulling Mussels From The Shell
19 Slap and Tickle
20 Cool for Cats
21 [encore break]
22 Tempted
23 Is That Love?
24 Black Coffee in Bed
As with all artists featured on this site, if you download this recording, please support Squeeze and purchase the new compilation: