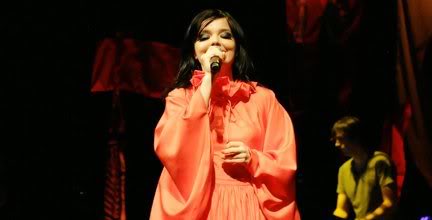 Bjork began her 18-month worldwide tour in promotion of the new album Volta with a week of three concerts in three different venues in New York. The first night at Radio City was her first concert in the U.S. in almost four years, and with new material and an all new band, the result was the most restrained of the three NYC shows. Nevertheless, the concert was a triumphant return to the stage for Bjork, with several pleasant surprises in the setlist.
I recorded this concert from a prime location with pro-quality DPA microphones. However, in my rush to upload this concert to a bit torrent site within 3 hours of the end of the show, I did not perform any post-production work. The remaster posted below was the result of many hours of post-production work in Soundforge
which improved the initial recording drastically. The volume levels were increased significantly and balanced, dozens of instances of close clapping or other audience noise were softened or removed, and the high-end peaks were accentuated through equalization.
This recording is dedicated to my friends in the Bjork Hub, the most reliable and dedicated fans of any artist anywhere.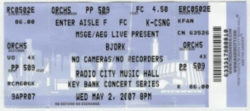 This recording is in an indirect way responsible for the existence of the nyctaper website. Prior to the establishment of this site, I posted my masters on various bit torrent trackers, and in several instances my recordings were then compressed to low-quality mp3s and re-posted without any credit or attribution on bottom-feeder blogs.
In this case of this recording, the blogger not only failed to give credit, but also deleted my comments and insulted me when I sought credit. One of those insults ironically "suggested" that I create my own blog where I could host lossless downloads and pay the server fees. Eight days later, I did.
Download the complete performance in FLAC [HERE].
Bjork
2007-05-02
Radio City Music Hall
New York, NY USA
Digital Master Recording
Recorded from Front of Board Center
Orchestra Row PP, Seat 509
DPA 4021's > Marantz PMD-660 (Oade BCM) > Soundforge (Remaster) > flac
Recorded and Produced and
Remastered by
nyctaper
2007-09-03
Setlist:
01 Earth Intruders*
02 Venus as a Boy
03 Aurora
04 I See Who You Are**
05 Oceania
06 Dull Flame of Desire***
07 All is Full of Love
08 The Pleasure is All Mine
09 Pagan Poetry
10 Jóga
11 Where is the Line
12 Army of Me
13 Innocence
14 Wanderlust
15 Pluto
Encores:
16 [encore break]
17 [band introductions]
18 Anchor Song
19 Declare Independence
*With Konono N°1
**With Min Xiao-Fen
***With Antony Hegarty
As with all artists featured at this site, PLEASE SUPPORT this wonderful and unique artist and visit her web page and purchase Volta: