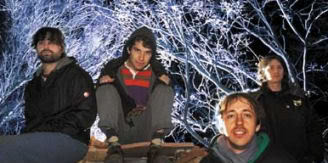 The Animal Collective tour in support of their new release Strawberry Jam
came to New York tonight for the first of two shows at Webster Hall. This was an off night. The band seemed somewhat out of sync, and the show came to a screeching halt when Avey Tare stopped "Fireworks" in the middle because it was "too bass-y". Three truncated songs later, no encore, and the show was over in a little over 70 minutes. We hope tomorrow will be better.
The recording offered for download below has superior sound quality. Avey was right about the bass, and as a result I equalized the low-end in post-production. I had an excellent place for recording, and used DPA microphones that can handle the booming bass of this concert without distortion or saturation.
This recording is now available as a direct download in FLAC or MP3 [HERE].
Animal Collective
2007-09-30
Webster Hall
New York, NY USA
Digital Master Recording
Recorded from Balcony First Row Center
Directly Behind Soundboard
DPA 4021's > Marantz PMD-660 (Oade BCM) > 16bit 44.1 .wav >
Soundforge > flac
Recorded and Produced by
nyctaper
2007-09-30
Premiere Download offered at
http://www.nyctaper.com
nyctaper@nyctaper.com
Setlist:
[total time 1:14:11]
01 #1
02 Bearhug
03 Song for Ariel
04 Peacebone
05 Who Could Win a Rabbit
06 Daily Routine
07 Unsolved Mysteries
08 Dreamer
09 Firewords/Essplode
10 Brother Sport
11 Grace
12 Leaf House
As with all artists featured on this site, if you download this recording, please support Animal Collective and the Paw Tracks website.