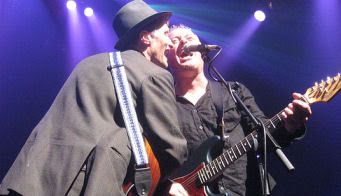 The Mekons 30th Anniversary tour rolled into New York on Wednesday with a rousing and lengthy concert by the British legends. While the set did feature several numbers from their new album Natural
, the set also was fine retrospective of their material. The set was punctuated with the standard Mekons oeuvre — extensive stage banter, some alcohol, and much humor.
The Mekons permit fan recording. As a result I was able to position myself in the identical location as the Bjorkestra / Jacob Fred Jazz Odyssey recordings from last week, and use my best equipment. The results are outstanding, and a fine representation of this entertaining and enjoyable performance.
The photograph posted above is courtesy of twi-ny. There are more excellent high-resolution photos from this concert here. Thanks also to Club Mekon for advice and assistance. Visit Club Mekon here.
This recording is now available for download in FLAC and MP3 at Archive.org [HERE].
Mekons
2007-10-03
Blender Theatre at Gramercy
New York, NY USA
Digital Master Recording
Recorded from 1st Row of Seating Area
Directly Behind Soundboard
Neumann KM-150's (AK-50 Hypercardiod Capsules) > Apogee Minime > digital coaxial > M-Audio Microtrack > 24bit 48kHz wav file > Soundforge 8.0 (set fades, level adjustments, resample 16/44) > Flac Frontend (level 7, align sector boundaries) > flac
Please support the Mekons
http://www.mekons.de/mekonhom.htm
Recorded and Produced
by nyctaper
2007-10-05
Setlist:
[Total Time 1:57:52]
01 [introduction]
02 Beaten and Broken
03 Dickie Chalkie and Nobby
04 [banter]
05 Wine or Money
06 Fletcher Christian
07 Thee Olde Trip to Jerusalem
08 The Hope and The Anchor
09 [banter]
10 Tina
11 [banter]
12 Diamonds
13 [banter]
14 Hey! Susan
15 [banter]
16 Cockermouth
17 Dark Dark Dark
18 Ghosts Of American Astronauts
19 Last Dance
20 Lonely and Wet
21 Lost Highway
22 Perfect Mirror
23 Curse of the Mekons
Encores
24 [banter]
25 Heaven and Back
26 The Letter
27 Hard to be Human
28 [banter]
[last encore Wild and Blue not recorded]
As with all artists featured at this site, if you download this recording PLEASE SUPPORT The Mekons and purchase their latest release: