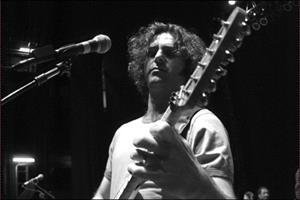 Tonight Zappa Plays Zappa performs at the Beacon Theatre, in a continued celebration of the music of Frank–whose annual Halloween NYC shows
were legend. Unfortunately, I won't be able to attend this evening's performance. However, last year I was lucky to see the show at The Theatre at Madison Square Garden. The band was led in the capable hands of Dweezil, and last year's show featured members of Frank's band, including the amazing Steve Vai, Terry Bozzio, and Napoleon Murphy Brock.
In anticipation of tonight, nyctaper presents a Halloween present to our loyal readers.
I recorded this concert from the center of the front section, directly in front of the soundboard, and utilized the Neumann rig. This recording has an excellent stereo presence and rich bass notes. Enjoy!
This recording is no longer available at nyctaper. If you search the web, you'll likely find a copy.
Zappa Plays Zappa
2006-10-31
The Theatre at Madison Square Garden
New York, NY USA
Digital Master Recording
Recorded from Front of Board – Dead Center
Section 100, Row R, Seat 12
Neumann KM-150's (AK-50 Hypercardiod Capsules) > Apogee Minime >
digital coaxial > M-Audio Microtrack > flac
Recorded and Produced
by nyctaper
http://www.nyctaper.com
Setlist:
[Total Time 2:51:44]
01 Andy
02 Call Any Vegetable
03 Tell Me You Love Me
04 Who Are The Brain Police?
05 Can't Afford No Shoes
06 Pygmy Twylyght
07 Idiot Bastard Son
08 Cheepnis
09 I Am The Slime / Pound for a Brown
10 Don't Eat the Yellow Snow / St. Alphonzo's Pancake Breakfast
11 Inca Roads
12 I'm So Cute
13 Trying to Grow a Chin
14 Advance Romance
15 Punky's Whips
16 Black Page 1
17 Black Page 2
18 Peaches En Regalia
19 Montana
20 Village of the Sun// > //Echinda's Arf
21 Zombie Woof
22 Black Napkins
23 The Torture Never Stops
Encores:
24 Quick Orange County Lumber Truck
25 More Trouble Every Day
26 Regyptian Strut
Information:
txt file
Verification:
md5 file
If you download this recording PLEASE SUPPORT THIS ARTIST and buy their official releases at their website, where you can also preview the upcoming Zappa Plays Zappa DVD.