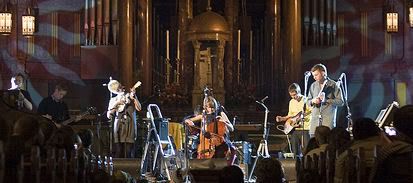 [photo credit]
mum resurrected their old magic in the Church of St. Paul last night. The newest version of mum debuted at the Sugarcubes Reunion almost exactly a year ago. After the departure of founding member Kristin Anna Valtisdottir (now Kri­a Brekkan) , the 2006 performance was an awkward set of entirely new material, and the new mum seemed to be exploring less interesting musical approaches. Following a year of maturity, and the release of an excellent new album Go Go Smear the Poison Ivy
, mum has toured Europe and the U.S. this Fall. The performance last night concentrated primarily on the new album's songs which have developed fully into solid mum compositions, rich in texture and complex instrumentality.
An interesting footnote to last night's concert. Near the end of the first encore, a curious tall thin dark-haired woman in a large overcoat approached my microphone stand and watched the concert for a short while. After a few brief minutes, I realized that she was Kristin, and when the woman left to the rear of the venue, a shocked mum crew member noticed her and the two embraced at length. She left shortly thereafter.
Many thanks to Gunni for permission to record. I set up very close the PA speakers to avoid the echo and boomy nature of recording inside of an old church. The PA system was plagued with a noticeable hiss and buzz, and those noises do mar the quiet moments of this recording. When the music is louder, you can not notice the noise. Enjoy!
My recording of last year's debut mum performance is available (here).
Download of the complete show in FLAC [HERE].
mum
2007-11-09
The Wordless Music Series
The Church of St. Paul the Apostle
New York, NY USA
Digital Master Recording
Recorded from Upfront, 6 rows from Right PA Speakers
Neumann KM-150's (AK-50 Hypercardiod Capsules) > Apogee Minime > digital coaxial > M-Audio Microtrack > flac
Recorded and Produced
by nyctaper
2007-11-10
Setlist:
[Total Time 1:14:00]
01 Slow Bicycle
02 Moon Pulls
03 I Was Her Horse
04 Oh, How the Boat Drifts
05 Sit Down
06 Asleep In A Hiding Place
07 Guilty Rocks
08 Winter (What We Never Were After All)
09 Mother's Last Word to Her Son
10 A Little Bit, Sometimes
11 Blessed Brambles
12 Marmalade Fires
Encores:
13 The Ghosts You Draw On My Back
14 I'm 9 Today
If you download this recording PLEASE SUPPORT mum. Visit their myspace page, the mumweb fansite, mumweb forum, and and buy mum official releases:
Click the link below to purchase the new CD: