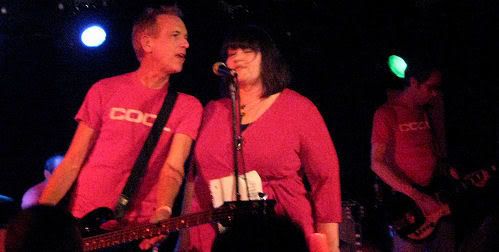 [photo credit]
I had the same reaction when I saw Pylon in 1988. How can a band who has not toured in many years, and who have played intermittently since the 1980s, so sound tight. Its a credit to the rhythm section of Curtis on drums and Michael on bass, but its also a testament to the quality of the original songwriting and the unique melodic sense of guitarist Randy. Last night at the Mercury Lounge, Pylon delivered a terrific set of their best material in front of a packed and adoring crowd. Vanessa was energetic and genuinely modest about the tremendous crowd support.
With the permission of Pylon (thanks!), I recorded this concert from the ideal location in this venue, equidistant from the two sets of speakers, and directly in front of the soundboard booth. The result is a recording with excellent stereo separation and clarity. The crowd is present in the recording, but not obtrusively. Enjoy!
Download the Complete show in FLAC [HERE].
Pylon
2007-11-07
Mercury Lounge
New York, NY USA
Digital Master Recording
Recorded from in Front of Soundboard
Dead Center Approximately 30 feet from PA
DPA 4021's > Marantz PMD-660 (Oade BCM) > flac
Many Thanks to Pylon (in particular Michael) for permission to record.
Recorded and Produced by
nyctaper
2007-11-08
Setlist:
[Total Time 1:17:38]
01 Cool
02 Dub
03 Driving School
04 Read a Book
05 Working is No Problem
06 Sugarpop
07 3×3
08 Gravity
09 Precaution
10 Weather
11 The Human Body
12 Crazy
13 K
14 Danger
15 Volume
16 Feast on My Heart
17 Stop It
Encores
18 M Train
19 Beep
20 Sloganistic
If you download this recording PLEASE SUPPORT Pylon. Visit their website and buy their official releases.
Click the link below to purchase the new Gyrate + CD: