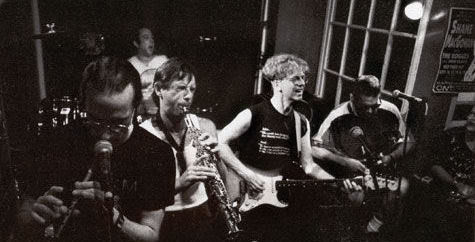 At a recent Pierce Turner gig, I ran into my old friend Fred Parcells from Black '47. Fred has compiled an extraordinary history of Irish music (including an enormous Black '47 archive) at his site (here).
There was a time back in the early 90's when I saw Black '47 once or twice every week at the old Paddy's Reilly's on Second Avenue and 28th Street (the new Reilly's is on 29th). The combination of free-flowing Guinness, Irish politics, and rollicking Irish music created a captivating and exuberant experience. Black '47 still plays regularly now at Connolly's, and still performs about 100 gigs a year (tour info here).
This soundboard recording captures a typically excellent Saturday night at Paddy Reilly's, when Black '47 ruled the roost and played tirelessly. The outstanding soundboard mix was done by Johnny Murphy, Black '47's soundman at the time. All the instruments are well-balanced, and the sound is bright, clean and energetic. Enjoy!
Download Complete show in FLAC [HERE].
Black '47
1996-12-28
Paddy Reilly's Music Bar
New York, New York USA
Master Digital Soundboard Recording
Soundboard > Sony D-7 DAT
DAT Master > Panasonic SV-3800 > digital coaxial > Audigy 2 ZS Platinum > Soundforge > 16 bit 44.1 wav > CD Wave (tracking) > Flac Frontend (level 7,align sector boundaries) > flac
[total time: 1:47:03]
Tracklist:
01 Big Fellah
02 Oh Maureen
03 Fire of Freedom
04 Green Suede Shoes
05 Danny Boy
06 Reels
07 Walk All the Days
08 Livin' in America
09 Funky Céilí
10 40 Shades of Blue
11 Czechoslovakia
12 Rockin' the Bronx
13 Who Killed Bobby Fuller?
14 Losin' It
15 Maria's Wedding
Encores
16 Gloria
17 I Fought the Law
If you download this recording PLEASE SUPPORT Black '47 and visit their website.