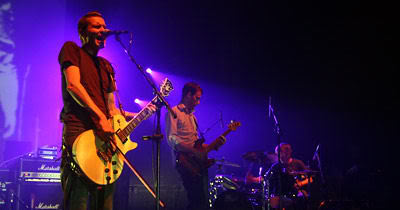 This month Sigur Ros released Heima
— the DVD of their 2006 tour of Iceland. This film captured the band's return to their homeland after a worldwide tour in support of Takk
, their brilliant 2006 release. This past October, nyctaper was fortunate to experience the limited acoustic/film screening sets in NYC. The recording is still available for download at nyctaper.com (here).
Early in the Takk tour, nyctaper recorded the Sigur Ros set at the Theatre at Madison Square Garden. This was a breathtaking experience, as the music and its setting were perfectly matched, and the band performed flawlessly accompanied by a rare appearance of a complete brass section.
nyctaper recorded with small stealth microphones from a decent seat in the 200's. This is a fine recording, with only some accompanying chatter between songs. Enjoy!
Download the Complete show in FLAC [HERE].
Sigur Ros
2006-02-09
The Theatre at Madison Square Garden
New York, NY USA
Master Audience Recording
Section 204 Row H, Seat 13,
approximately 75 feet directly in front of left PA speaker
Core Sound Cardiods > M-Audio Microtrack 24/96 > .wav > Soundforge* > CDWave (tracking) > Flac Frontend (level 7, align sector boundaries) > flac
recorded and edited by
nyctaper
2006-02-10
Tracklist:
01 Takk/Glósóli
02 Ný Batterí
03 Saeglopur
04 Gong
05 Andvari
06 Hoppípolla
07 Meo Blódnasir
08 Sé Lest
09 Olsen Olsen
10 Viõrar Vel Til Loftárasa
11 Svo Hljótt
12 Heysátan
Encores:
13 Starálfur
14 Hafssól
15 Untitled #8 (Popplagið)
CD Artwork is in the FLAC folder.
If you download this recording, PLEASE SUPPORT Sigur Ros and visit their website