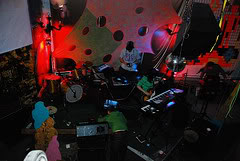 My first introduction to the music of Rings was at this very concert. The CD release party for their new disc Black Habit featured a performance by the Animal Collective members that brought a large crowd to this small space. Those people who came to see Rings and those wise enough to stay for their set were treated to a performance of truly inspired and original music by this trio of collaborative artists.
Rings were "First Nation" until Nina Mehta and Kate Rosko were joined by Abby Portner (sister of Animal Collective's Dave Portner aka Avey Tare). The new album was recorded with Kria Brekkan, and certainly there are echoes of Kria influence in the music, along with a patchwork of pop, rock, ambient, and folk. As the recording offered below attests, the result is sublime and compelling music. Enjoy!
Many thanks to Nina and Rings for approval of this recording.
Download the Complete show in FLAC [HERE].
Rings
2008-01-20
Glasslands Gallery
Brooklyn, NY USA
Digital Audience Master Recording
Recorded from Front of Board
20 Feet from PA
DPA 4021s (7 ft Stand) > Edirol UA-5 (Oade Digimod) > M-Audio Microtrack 24/96 > 16bit 44.1kHz wav > Soundforge (level adjustments, set fades) > CDWave 1.95 > Flac Frontend (level 7, align sector boundaries)> flac
Recorded and Produced by
nyctaper
2008-01-22
Setlist:
[Total time 35:41]
01 mom dance/animal mourning
02 is he handsome
03 you remind me/teepee
04 scape aside
If you download this recording, PLEASE SUPPORT Rings, visit their mySpace page, and purchase their CD through the Paw Tracks website.
Rings tour visits the following venues in the next several weeks. See them live!
Jan 31 2008 8:00P Emos Jr. w/White Williams Austin, Texas
Feb 1 2008 8:00P Hailey's w/ White Williams Denton, Texas
Feb 2 2008 8:00P Walters on Washington w/ White Williams Houston, Texas
Feb 4 2008 8:00P Club Downunder w/ White Williams Tallahassee, Florida
Feb 5 2008 8:00P Drunken Unicorn w/ White Williams Atlanta, Georgia
Feb 6 2008 10:00 Milestone w/ White Williams, Missing Children Charlotte, NC
Feb 7 2008 8:00P Local 506 w/ White Williams and Ecstatic Sunshine Chapel Hill, NC
Feb 8 2008 8:00P Ottobar w/ White Williams and Ecstatic Sunshine Baltimore, MD
Feb 9 2008 8:00P Johnny Brendas w/ White Williams and Ecstatic Sunshine Philly, PA
Feb 10 2008 8:00 Studio B w/ White Williams and Ecstatic Sunshine Brooklyn, NY