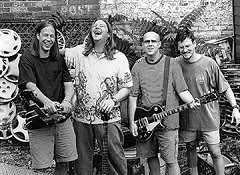 Eleven years ago, it was much easier to drop everything and take a four-hour spur of the moment road-trip to see some music. Since we had tickets to see moe. on Halloween in New Jersey, it seemed perfectly reasonable to see their 'Een Eve show in Baltimore at a smaller and more intimate club. We piled into Eric's SUV, and soon enough were driving around Fell's Point looking for Bohager's.
moe. were particularly strong this night, as their relaxed and festive mood was evident throughout the evening, particularly during the jam segment of the second set from "It" through "Punchline". The show was also back in the day when moe. permitted soundboard patches, and I fortunately remembered to bring my trusty D-7 DAT on the trip. Steve the soundman provided a very nice mix for this show, and the recording is outstanding. Enjoy!
This recording is now available for download in FLAC and MP3 at Archive.org [HERE].
moe.
10/30/97
Bohager's
Baltimore, MD USA
Digital Soundboard Recording
Soundboard > Sony D-7 DAT Master
DAT Master > Panasonic SV-3800 > digital coaxial > Audigy 2 ZS Platinum > CD Wave (capture) > 16 bit 44.1 wav > Soundforge (set fades, level boost) > CD Wave 1.75 (tracking) > Flac Frontend (level 7, align sector boundaries) > flac
Recorded, extracted and edited by nyctaper
2008-03-09
Setlist:
Set 1
[total time 1:17:45]
01 [introduction]
02 32 Things
03 Awesome Gary
04 Bring You Down
05 Akimbo
06 Recreational Chemistry
07 Stranger Than Fiction
08 Plane Crash
Set 2
[total time 1:50:19]
01 Seat Of My Pants
02 Sensory Deprivation Bank
03 Threw It All Away
04 Water
05 It
06 CalifornIA
07 Waiting For The Punchline
08 Brent Black
09 [encore break]
10 Waiting For The Punchline [Reprise]
11 Spine Of A Dog
If you email nyctaper for access to this recording, we expect that you will PLEASE SUPPORT THIS ARTIST and buy their official releases at their website. The new moe. album Sticks and Stones can be purchased directly from the moe. store here.