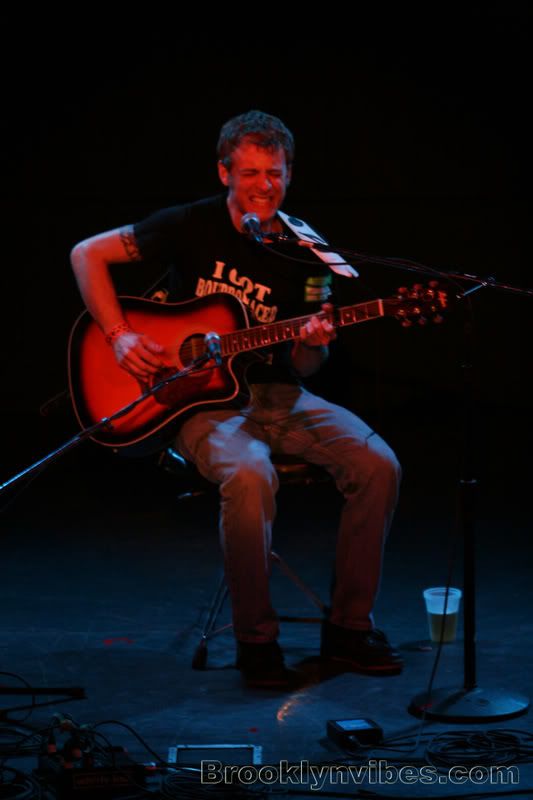 [photo by Matt, links to full resolution photos below]
[photo 1] [photo 2] [photo 3] [photo 4] [photo 5] [photo 6] [photo 7]
When we posted yesterday about the Dirty on Purpose gig at the McCarren Pool Afterparty, the day time pool bands were TBA for August 10. We did not realize that just a few hours later the bands would be confirmed for that date. Felice Brothers are the headliners, and our old friends Deer Tick are also on the bill.
We figure this is good time to offer a download of Deer Tick's (John solo) performance from the Bowery opening for Jaymay in June. This recording was captured by Matt from brooklynvibes, and he reports that John was very well received by the crowd who also included Jaymay in the audience for this set. To bring this post full circle, Jaymay also supported her friends in Dirty on Purpose with a guest vocal on "Like Bees" earlier this year.
Matt recorded this with his high end AKG microphones and the sound is spectacular. Enjoy!
Direct download of MP3 files (HERE)
Download the Complete show in FLAC [HERE].
John McCauley of Deer Tick (Solo)
New York, NY
Bowery Ballroom
June 10, 2008
Taper: Matt Casey
Source: AKG 414's> Sound Devices 702
Conversion: Matt Casey
Source: CF> USB> Wavelab (normalizing)> CDWAV (tracking) >FLAC
Setlist:
01 [introduction]
02 Straight Into A Storm > Spend The Night
03 Live Fast Love Hard Die Young (Faron Young)
04 Art Isn't Real
05 Mexican Home (John Prine)
06 Baltimore Blues No. 1
07 The Ghost
08 Dirty Dishes
09 Little White Lies
10 Ashamed
11 Poor Poor Pitiful Me (Warren Zevon)
12 These Old Shoes
If you email nyctaper for access to this recording, we expect that you will PLEASE SUPPORT Deer Tick, visit their website, visit their myspace page, and purchase the War Elephant release from Itunes, or emusic, or order it directly from Feow Records when its back in stock.