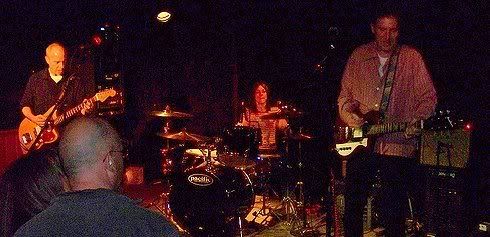 [photo credit]
Freedy Johnston performed his classic album Can You Fly on Friday night at Maxwell's and brought along a cast of all-star friends in support. The original co-producer of the album, legendary bassist Graham Maby played on about half the songs, and the uber-guitarist Dave Schramm played pedal steel on a handful of numbers. Longtime Freedy collaborator Kevin Salem provided the primary lead guitar work, and the rhythmic backbone was drummer Linda Pitmon (also of the Miracle 3), and versatile bassist Jared Nickerson.
In 1992, Can You Fly established Freedy Johnston as a premiere songwriter and performer. The years have not tarnished his abilities at all, and in fact Freedy is significantly more at ease with the audience than when he first appeared on the scene in the early 90's. The performance on Friday was a faithful rendition of the album and proved its value in surviving the test of time. For the final two encores, Freedy was joined by Steve Wynn, and while the Blue Oyster Cult cover was fairly goofy and sloppy, the band's run through Dylan's "Outlaw Blues" was quite inspired.
We recorded from the exact rig as the Steve Wynn set. The quality of this recording is somewhat compromised by an extremely chatty crowd, which contained a group of rude people at the bar area who were impatiently waiting for the late show. Other than the chatter, this is a superb matrix mix. Enjoy!
Direct download of MP3 files (HERE)
Download the Complete show in FLAC [HERE].
Freedy Johnston
2008-07-25
Maxwell's
Hoboken, NJ USA
Digital Master Recording
Soundboard/Audience Matrix
Soundboard + Front of Board Neumann KM-150s > Edirol UA-5 (Oade Digimod) > digital coaxial > M-Audio Microtrack 24/96 > 24bit 48kHz wav file > Soundforge (set fades, slight level boost, downsample, dither) > CD Wave 1.95 > Flac Frontend (level 7, align sector boundaries) > flac
Recorded and Produced by
nyctaper
2008-07-27
Setlist:
[Total Time 1:21:01]
Can You Fly
01 Trying to Tell You I Don't Know
02 In the New Sunshine
03 Tearing Down This Place
04 Remember Me
05 Wheels
06 The Lucky One
07 Can You Fly
08 Responsible
09 The Mortician's Daughter
10 Sincere
11 Down in Love
12 California Thing [false start]
13 California Thing
14 We Will Shine
15 [encore break]
16 Bad Reputation
17 Don't Fear The Reaper (Blue Oyster Cult)**
18 Outlaw Blues (Bob Dylan)**
**with Steve Wynn vocals and guitar
If you email nyctaper for access to this recording, we expect that you will PLEASE SUPPORT Freedy Johnston, visit his website, and purchase his official releases from the store at his website.