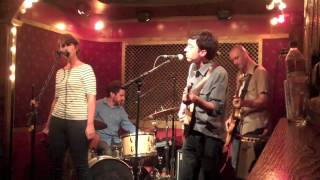 Shannon McArdle has released one of the best out-of-nowhere CDs of the entire year — The Summer of the Whore on Bar/None — and a couple of weeks ago we were at the Mercury Lounge CD Release party to witness the live version of the album. Shannon took the stage to the beating drum of "Poison My Cup", and worked through the post-divorce work with a variety of emotions, from humor to timidity to pride and ultimately redemption. She wrapped up the terrific set with a cover version of the appropriately sardonic "Naughty Fatalist" from her former Athens Georgia "neighbor" Vic Chesnutt.
We recorded this set from the same location as the Hotel Lights set, and other than some chatter and some slight wind from the fans, its an excellent capture. Enjoy!
There is a fine interview with Shannon McArdle from last week's Village Voice [here].
Direct download of MP3 files (HERE)
Download the Complete show in FLAC [HERE].
Shannon McArdle
2008-08-19
Mercury Lounge
New York, NY USA
Digital Master Recording
Recorded from Front of Board
Neumann KM-150's > Monster Cable > Apogee Mini-Me > digital coax > M-Audio Microtrack 24/96 > 24bit 48kHz wav > Soundforge 8.0 (level adjustments, downsample) > CD Wave 1.75 > Flac Frontend (level 7) > flac
Recorded and Produced by nyctaper
2008-08-27
Setlist:
[Total time 41:08]
01 Poison My Cup
02 That Night in June
03 Paint the Walls
04 Leave Me For Dead
05 Summer of the Whore
06 He Was Gone
07 This Longing
08 Come, Autumn Breeze
09 C.A. DRL §170
10 Naughty Fatalist (Vic Chesnutt)
If you email nyctaper for access to this recording, we expect that you will PLEASE SUPPORT Shannon McArdle, visit her website, visit her MySpace page, and purchase the new CD Summer of the Whore directly from the Bar/None site [HERE].