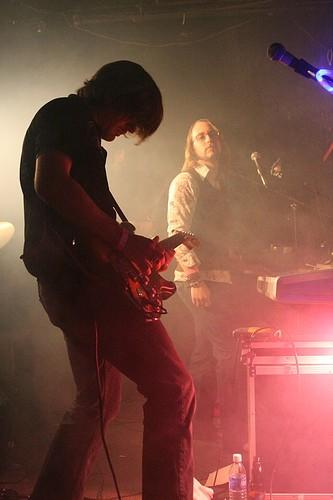 The story of Starling Electric is one of those tales about how the music industry is supposed to work. An excellent band from a small midwest city produces their own CD and releases it by themselves in 2006. The CD somehow finds its way into the player of an open-minded musical heavyweight (Bob Pollard of Guided By Voices), who spreads the word about the band. A year later, the same band finds themselves signed to a legendary indie label. Bar/None released Clouded Staircase in August and Starling Electric came to NYC for the CD release party at Mercury Lounge on August 19.
The set at Mercury featured eight of the eighteen tracks on Clouded Staircase and four new numbers. The strength of the new songs bodes well for an anticipated new release in 2009.
We recorded this set from the same location as the Hotel Lights and Shannon McArdle recordings from the same night and other than some minor fan-created draft the sound is superb. Enjoy!
Direct download of MP3 files (HERE)
Download the Complete show in FLAC [HERE].
Starling Electric
2008-08-19
Mercury Lounge
New York, NY USA
Digital Master Recording
Recorded from Front of Board
Neumann KM-150's > Monster Cable > Apogee Mini-Me > digital coax > M-Audio Microtrack 24/96 > 24bit 48kHz wav > Soundforge 8.0 (level adjustments, downsample) > CD Wave 1.75 > Flac Frontend (level 7, align sector boundaries) > flac
Recorded and Produced by nyctaper
2008-09-07
Setlist:
[Total time 41:44]
01 The St. Valentine's Day Massacre
02 Lisa and The Devil
03 Clouded Staircase (Part II)
04 Prince of the Puff of Smoke
05 British Boots
06 Black Ghost/Black Girl
07 I Got Scared
08 Black-Collar Crime
09 To Flunker, With Love
10 Bad Blood
11 Camp-Fire
12 Operator
If you email nyctaper for access to this recording, we expect that you will PLEASE SUPPORT Starling Electric, visit their website, visit their MySpace page, and purchase the new CD Clouded Staircase directly from the Bar/None site [HERE].