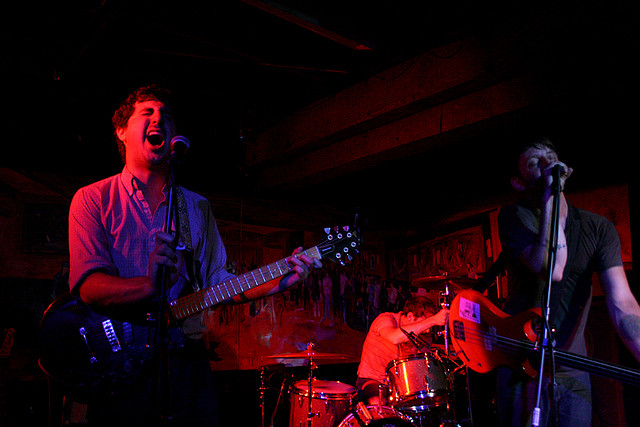 Oxford Collapse in Seattle [photo credit]
Oxford Collapse closed the outstanding Pop Tarts CMJ Afternoon Party yesterday at Cake Shop with a raging set featuring material from their 2008 release on Sub Pop called BITS. As the trio performed their full bodied guitar-bass-drums power pop with equal parts manic energy and irreverence, the enthusiastic crowd voiced their obvious pleasure. Oxford Collapse performs three more CMJ shows, all evening events:
Oct 22 New York, NY @ Crash Mansion
Oct 23 New York, NY @ Red Bull Space (40 Thompson St.)
Oct 24 New York, NY @ Piano's w/Death Vessel, Ruby Suns (Sub Pop CMJ Show)
We recorded from our standard upfront position at Cake Shop and the sound quality is outstanding. Thanks to Pat and to the band for their courtesies and permission. Enjoy!
Direct download of MP3 files [HERE]
Download the Complete show in FLAC [HERE].
Oxford Collapse
2008-10-21
Pop Tarts CMJ Day Party
Cake Shop
New York, NY USA
Digital Master Recording
Recorded from Upfront
10 Feet from the PA
DPA 4021s > Edirol UA-5 (Oade Digimod) > digital coaxial > M-Audio Microtrack 24/96 > 24bit 48kHz wav > Soundforge 8.0 (level adjustments, downsample 16/44) > CD Wave > Flac Frontend (level 7, align sector boundaries) > flac
Recorded and Produced by nyctaper
2008-10-22
Setlist:
[Total time 35:07]
01 Young Love Delivers
02 Back of the Yards
03 For The Winter Coats (Kids)
04 A Wedding
05 Lady Lawyers
06 Grasses of Anne
07 The Birthday Wars
08 Search
09 Please Visit Our National Parks
10 John Blood
[setlist from written list, songs may be out of order]
If you email nyctaper for access to this recording, we expect that you will PLEASE SUPPORT Oxford Collapse, visit their website, visit their MySpace page, and purchase BITS and their other official releases from the Sub Pop Records site [HERE].