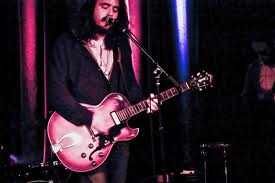 The most rewarding aspect of operating this blog is watching the growth and success of the bands that we have profiled. In May, when The Loom impressed the heck out of us at the NYCTaper Anniversary concert, we believed it was only a matter of time before they hit. And like clockwork, this year The Loom have gathered an impressive list of credentials — a Jezebel profile, a performance at the Montreal Pop Festival, their first tour, a RCRD-LBL profile, a Hooves On The Turf profile, a full week of CMJ Shows, and of course the release of their terrific new EP At Last Light. So when The Loom accepted our invitation to appear at our CMJ show (in 5 days!) we were thrilled. The Loom will appear at the NYCTaper CMJ Showcase on Thursday October 23 at Cake Shop at 3:30pm (schedule change).
In the meantime, we had a chance to attend and capture The Loom's performance at Glasslands Gallery last week. As we had not seen the band since late May, we were pleasantly surprised by the seamless transition of two new members, the band's obvious growth in their live sound, and the appearance of two new strong numbers. This capture is the same as the Miles Benjamin Anthony Robinson recording, and while heavily mixed with vocals, is nevertheless a clear recording of this excellent band. Enjoy!
The Loom CMJ Schedule:
Oct 22 2008 8:00 CMJ – The Bell House
Oct 23 2008 3:30 CMJ – Cake Shop – NYCTaper Showcase
Oct 24 2008 8:00 CMJ – Original Sessions Art House
Direct download of MP3 files (HERE)
Download the Complete show in FLAC [HERE].
The Loom
2008-10-08
Glasslands Gallery
Brooklyn, NY USA
Digital Master Recording
Soundboard/Audience Matrix
Soundboard + Front of Board Neumann KM-150s > Edirol UA-5 (Oade Digimod) > digital coaxial > M-Audio Microtrack 24/96 > 24bit 48kHz wav file > Soundforge (set fades, downsample) > CD Wave 1.95 > Flac Frontend (level 7, align sector boundaries) > flac
Recorded and Produced by nyctaper
2008-10-18
Setlist:
[total time 40:10]
01 All Your Famous Friends
02 New Blood for Old Hearts
03 Of Vegas and Vanity
04 [banter]
05 Patience for Books
06 Wings
07 Montreal
08 Song for the Winter Sun
09 Red Devil
10 Song of Faint Praise
If you email nyctaper for access to this recording, we expect that you will PLEASE SUPPORT The Loom, visit their MySpace page, and purchase their EP At Last Light from The Loom Store [HERE] or digitally from their MySpace page.