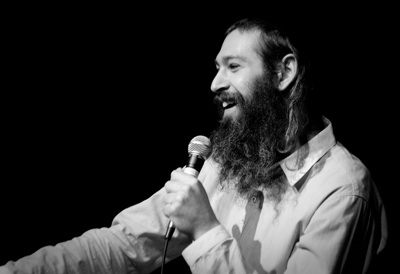 At the second night of his Festival of Light shows, Matisyahu came bearing gifts — nearly two and half hours of music, a rock solid performance, and several key guests. We were particularly thankful for the appearance of guitar virtuoso Yosi Piamenta, who completely shredded in his two extended performances. The set featured several numbers from Matisyahu's upcoming long-anticipated CD Light, due for release in early 2009. At the close of the show, each member of the band left the stage one by one during Yosi's solo, leaving him the spotlight to finish the set. It was an appropriate respectful gesture that acknowledged his outstanding performance.
We recorded this set from inside the soundboard area on the floor. In what was perhaps the youngest, roudiest, drunkest and least attentive crowd within which we have ever recorded, the microphones could only filter so much of the crowd noise. Additionally, Matis' microphone was saturated on numerous occasions. With those caveats, enjoy what should have been a much better recording.
This Recording is now available for Download in FLAC and MP3 at Archive.org [HERE].
Matisyahu
2008-12-22
Webster Hall
New York, NY USA
Digital Audience Master Recording
Recorded from Front of Soundboard Booth
Dead Center, approximately 50 feet from the PA
Neumann KM-150's (AK-50 Hypercardiod Capsules) > Monster XLR Cables > Apogee Minime > digital coaxial > M-Audio Microtrack > 24bit 48kHz wav files > Soundforge (set fades, slight level adjustments, downsample) > CD Wave 1.95 (tracking) > Flac Frontend (level 7, align sector boundaries) > flac
Recorded and Produced by
nyctaper
2008-12-27
Setlist:
[Total Time 2:18:54]
01 Heights
02 Youth
03 Thunder
04 Jerusalem
05 Chop 'Em Down
06 Close My Eyes*
07 So Hi So Lo
08 Beatbox
09 Altar Of Earth
10 We Will Walk
11 [menorah lighting]
12 King Without A Crown
13 [encore break]
14 Smash Lies
15 Struggla
16 Motivate*
*with Yosi Piamenta on guitar
Also with Oud player and other guests.
If you email nyctaper for access to this recording, we expect that you will PLEASE SUPPORT Matisyahu, visit his website, visit his MySpace page, and purchase the official releases from the store at his website [HERE].