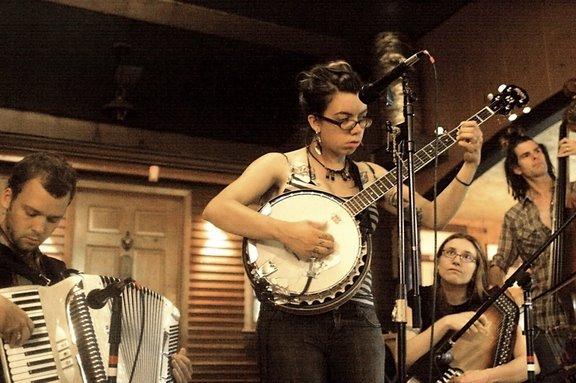 Hurray For The Riff Raff is an outstanding band from New Orleans well versed in the ways of Americana and Appalachian folk music. Their CD It Don't Mean I Don't Love You is on constant rotation here at NYCTaper, as we are aficionados of this genre when its done correctly (i.e. Wilco, The Loom). Hurray For The Riff Raff is centered around the rich melodic vocals of Alynda Lee and a series of classic folk instruments played with understated proficiency.
Originally booked for Monday, December 8 at Pianos, Hurray For The Riff Raff now has a series of four gigs scheduled this week, beginning with a loft gig tonight.
Dec 4 2008 1087 Loft NYC
Dec 5 2008 Pete's Candy Store Brooklyn
Dec 6 2008 Silent Barn Brooklyn
Dec 8 2008 Pianos NYC (with Sharon Van Etten)
The Pianos gig on Monday night is a free show, and nyctaper will be there to capture a recording.
Here is a sample mp3:
Hurray for the Riff Raff — Daniella MP3 [here]