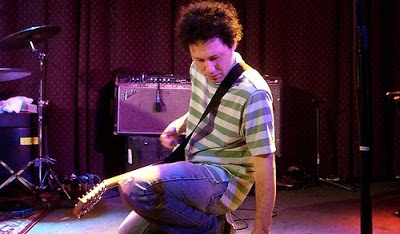 review by neild
On Wednesday, the fourth night of Yo La Tengo's Hanukkah celebration, the band performed an odd show — no special guests at all, just the usual trio for the entire set. What made it special was the setlist, which went deep into the band's catalog to dig up such rarely heard gems as "Tiny Birds," "Paul Is Dead," "Upside Down," and "Detouring America With Horns," as well as covers of Sparks and the Velvet Underground, and exceptional versions of "Autumn Sweater" and "Blue Line Swinger." There were technical problems all around – James' bass was way too loud at first, one of Georgia's drum mics was on the fritz, there was a steady stream of water drizzling onto the stage from a ceiling vent, and my recording setup generated some odd pops at random places – but all in all a very good YLT show, and a nice complement to some of the more star-studded nights of Hanukkah.
nyctaper: For the post-production on this recording, I boosted levels overall and more for the quieter numbers. With the loose cable static problem ("odd pops"), I could not fix the problem, so I just deleted the sections of noise, which were strategically placed outside the music except for two short sections of "Drug Test". Overall though, another terrific job by neild.
Direct download of MP3 files (HERE)
Download the Complete show in FLAC [HERE].
Yo La Tengo
2008-12-24
Maxwell's
Hoboken, NJ USA
Digital Audience Master Recording
Recorded from Front of Board
CoreSound Cardioids > MM-EBM-1 battery box (with bass roll-off) > Sony MZ-NH900 > Audiophile 2496 > Sound Studio > 16bit 44.1 wav > Soundforge (set fades, level boost, edit close clapping, edit loose cable clicks/ticks) > CDWave 1.95 (tracking) > Flac Frontend (level 7, align sector boundaries) > flac
Recorded by neild
Produced by nyctaper
2008-12-25
Setlist:
[Total Time 1:37:58]
01 Big Day Coming
02 Beanbag Chair
03 Pass the Hatchet, I Think I'm Goodkind
04 Drug Test
05 The Weakest Part
06 Mr. Tough
07 Tiny Birds
08 Paul Is Dead
09 Shadows
10 Angst In My Pants (Sparks)
11 Upside Down
12 Autumn Sweater
13 I Heard Her Call My Name (Velvets)
14 Blue Line Swinger
15 [encore break]
16 I Gotta Dream On (Herman's Hermits)
17 Detouring America With Horns
18 Cherry Chapstick
19 Rock and Roll Santa (Jan Terri)
If you email nyctaper for access to this recording, we expect that you will PLEASE SUPPORT Yo La Tengo, visit their website, visit their MySpace page, and purchase their official releases from the store at their website [HERE].