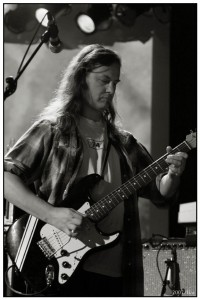 [photo by Ian Weintraub from Jonathan Segel's MySpace photos]
After his impressive multi-instrument performances with Camper Van Beethoven on Friday and Saturday, Jonathan Segel stepped forward and performed a set at Pianos last Sunday. Segel's solo work features primarily his songwriting and outstanding guitar work. Although the Pianos set was limited by time constraints, there was certainly enough time for Segel to exhibit his guitar proficiency to the intimate yet enthusiastic crowd. The highlights included "Civil Disobedience" and the catchy "I Can't Help It".
We recorded this set from our standard location at Pianos. Although perhaps the drums were a bit too loud in the room, the clarity of this recording is quite excellent. Enjoy!
The Victor Krummenacher and Sharon Van Etten sets were also recorded and will be featured on nyctaper in the near future.
This Recording is now available for Download in FLAC and MP3 at Archive.org [HERE].
Jonathan Segel
2009-01-11
Pianos
New York, NY USA
Digital Master Recording
Recorded from Front of Board
30 Feet from Stage
Neumann KM-150s (AK-50 Hypercardiod Capsules) > Monster XLR cables > Apogee Minime > digital coaxial > M-Audio Microtrack > 24bit 48kHz wav file > Soundforge 8.0 (set fades, slight level boost, resample 16/44) > CD Wave 1.95 > Flac Frontend (level 7, align sector boundaries) > flac
Recorded and Produced by nyctaper
2009-01-19
Setlist:
[total time 34:15]
01 In Orebro
02 Angels
03 I Love You
04 Greedy
05 I Can't Help It
06 Civil Disobedience
07 Enough Air
If you email nyctaper for access to this recording, we expect that you will PLEASE SUPPORT Jonathan Segel, visit his website, visit his MySpace page, visit the Magnetic Motorworks site, and purchase his official releases directly from Magnetic Catalog and the Pitch-A-Tent Store [HERE].