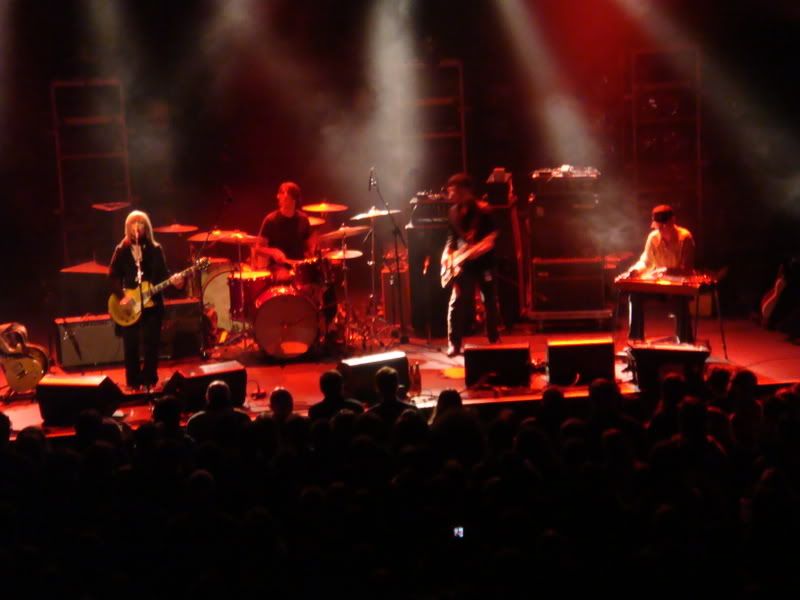 [photo by Johnny for nyctaper]
Review by Johnny:
Why this band isn't hugely popular, I have no idea. Truth be told, I had only gotten into Heartless Bastards recently and had really liked what I'd heard. I was further intrigued when I realized that raspy voice coming out of the speakers belonged to a woman. The lucky (and smart) part of the crowd that showed up at Terminal 5 early was treated to an amazing set by Erika Wennerstrom and company. Blending a tight mix of indie rock, garage punk, roots and blues, the band captured the attention of the audience during their too-short half-hour set. I could go on and wax poetic about Heartless Bastards, the strength and depth of their songs, comparisons to other bands, etc… but I don't need to. Their music speaks for itself.
Our recording position in the venue was the same as for the Black Keys and Lucero. Aside from the chatter during the low-volume parts and the house adjusting levels (particularly vocals) during the first song, the mix is spot-on and the recording sounds really good. Enjoy!
Direct download of the complete show in MP3 [HERE]
Direct download of the complete show in FLAC [HERE]

If either of the links are no longer working, email nyctaper with a request for the download location of the files.
Heartless Bastards
February 6, 2009
Terminal 5
New York, NY, USA
(Opened for The Black Keys / Lucero)
Location: 2nd level, directly behind soundboard, DFC
Source: AUD > AKG C 414 B-XLS > Edirol R-44 (WAV @ 24-bit/48kHz)
Lineage: R-44 (WAV @ 24-bit/48kHz) > USB > PC > Adobe Audition (adjust levels, downsample, dither, tracking) > WAV (16-bit/44.1kHz) > Trader's Little Helper (check/fix SB's) > FLAC Frontend > FLAC ( level 8 )
Recorded and produced by: Johnny Fried Chicken Boy
SETLIST:
[Total time: 31:08]
01. Early in the Morning
02. Done Got Old
03. Came a Long Way
04. The Mountain
05. Sway
06. Nothing Seems the Same
If you download this recording, we expect that you will PLEASE SUPPORT Heartless Bastards, visit their website, visit their MySpace page, and purchase their official releases and merch from the store at their website [HERE].