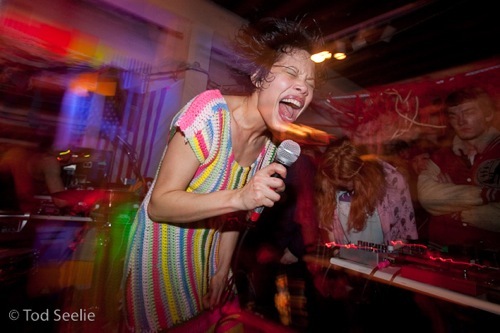 [photo by Tod Seelie – courtesy of Impose]
The CD release show for These Are Powers new release All Aboard Future was perhaps the most ambitious show of this kind that we have ever seen. In anticipation of the release, These Are Powers commissioned artists to interpret the songs on the album. The result is a week-long exhibition at Secret Project Robot. Friday night was the opening and it culminated in a performance by These Are Powers in one of the exhibition rooms. The band performed in the midst of an installation piece, with PA speakers all around the room, and played an incredibly energetic set to a completely packed crowd.
We recorded from the center back against the short side of the rectangular room, which placed our microphones only about 15 feet from the band. The sound system was powerful and this recording has an incredibly rich bass presence and a full spectrum. The only drawback is the art-crowd's persistent chatter, which fortunately can not be heard when the band is at full volume. Enjoy!
These Are Powers are at Other Music for an in-store performance tonight (Monday Feb 16). They will also perform again this coming Friday (Feb 20) at Market Hotel.
Direct download of MP3 files (HERE)
Download the Complete show in FLAC [HERE].
These Are Powers
2009-02-13
Secret Project Robot
Brooklyn, NY USA
"All Aboard Future" CD Release Show and Art Exhibit
Digital Master Recording
Recorded from Center – 15 Feet from Stage
Neumann KM-150's > Monster Cable > Apogee Mini-Me > digital coax > M-Audio Microtrack 24/96 > 24bit 48kHz wav > Soundforge 8.0 (level adjustments, downsample) > CD Wave 1.75 > Flac Frontend (level 7) > flac
Recorded and Produced by nyctaper
2009-02-15
Setlist:
[Total time 47:19]
01
02 Cockles
03 Double Double Yolk
04 Untitled [new song]
05 Adams Turtle
06 Life of Birds
07 Easy Answers
08 Chipping Ice
09 World Class Peoples
If you email nyctaper for access to this recording, we expect that you will PLEASE SUPPORT These Are Powers, visit their MySpace page, and purchase their official releases including the new CD All Aboard Future from the Dead Oceans site [HERE].