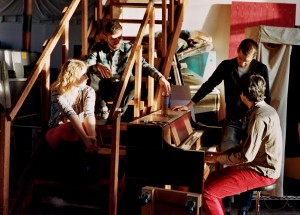 Spanish Prisoners are set to release their first new music since 2007's Songs To Forget, an album that came out of nowhere to garner significant critical praise and which earned Spanish Prisoners gigs opening for the likes of John Vanderslice and Daniel Johnston. This month, the new EP Los Angeles Guitar Dream will drop, and Spanish Prisoners will perform their EP release show at Crash Mansion on April 25.
After the success of Songs to Forget, the Fall of 2008 saw several personnel changes in the band. When Leo Maymind returned to writing and recording, the three-song EP that resulted was a pronounced creative leap for the band. While Songs was a lyrically rich pop side of anti-folk, Los Angeles Guitar Dream contains songs of a dreamy textured guitar-oriented rock. We spoke to Leo regarding some of the changes in the band and the sound.
NYCTaper: Hi Leo, I've listened to the new EP a few times through already, and there seems to be a real departure from the Songs to Forget. Almost as if you took the last Spanish Prisoners album title literally and drew a line in the sand. Can you walk us through the evolution of the band over the last two years?

Leo Maymind: It certainly is true that this EP is a departure from the previous record. When I listen back to "Songs to Forget" there are things I still really enjoy and things I don't see doing ever again. I think I've also really evolved as a musician and home recording engineer. The band has gone through several different lineup changes since I moved to Brooklyn and that record came out, but none of the people that went in and out of the band actually recorded with me or really made an indelible mark on the "sound" of Spanish Prisoners. I was sort of having a hard time finding people that I felt compatible with, but the current lineup of the band (myself, Amberly Hungerford, Tim McCoy, and Turner Stough) feels like what I was searching for and I'm really excited for us all to work more on writing and recording as a group, which we've already been doing a little of.

NYCT: One of the more interesting elements of Spanish Prisoners for me has always been that authentic vulnerability of your vocals — which seemed to accurately capture the raw truths in the lyrics. On this EP you seem to have purposefully added quite a bit of effects and layers to the vocals. Can you explain the stylistic decision to change the vocal sound?

LM: I've always liked a layered, effected vocal sound! I think on the first record I was more interested in making sure everyone understood the lyrics, but this time I wanted the vocals to just be a part of the overall picture and not the main focus, even though I think the lyrics are intelligible if you try to understand them.

NYCT: Another surprising aspect of this EP for me is the guitar playing. Previously, you had not really brought your instrumental abilities to the forefront, but the new material has some really outstanding guitar work. Why were you hiding this from us?!

LM: I guess I've always had a love-hate relationship with the guitar and I usually sought to replace it with other textures (strings, synths, banjo, etc). Recently I re-evaluated my playing and gave it much more thought than I did in the past. I used to just consider myself a songwriter who played the guitar as a tool, but I'm changing the way I think about the instrument. My favorite guitar players (Isaac Brock, Dean Wareham, Johnny Marr, Daniel Rossen) all do things outside of the normal realm of guitar playing and that was something I tried to emulate more on this EP.
NYCTaper was there to record the Songs to Forget CD Release show in 2008.