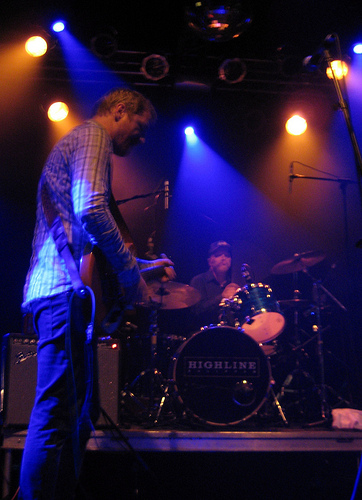 [photo courtesy of Quabit]
It was only a few months ago when we were treated to two outstanding concerts by David Lowery's "other" band Camper Van Beethoven. On Thursday night at Highline Ballroom, it was Cracker's turn and they delivered a non stop two-hour set of material old and new that absolutely raged. On tour to support their excellent new CD Sunrise in the Land of Milk and Honey, the band is in a zone — tight and focused and with plenty of energy. While Milk and Honey was featured prominently in the setlist (8 songs), the extended set length allowed for literally all the Cracker classics to be performed, including "Teen Angst" "Eurotrash Girl" and the final encore of "Low".
We recorded this set from the optimal location in this venue, directly in front of the soundboard in the center. The four-microphone rig was used and the results are excellent. Enjoy!
This Recording is now available for Download in FLAC and MP3 at Archive.org [HERE].
Cracker
2009-06-25
Highline Ballroom
New York, NY USA
Four-Track Digital Master Recording
Recorded from Front of Board Center
Neumann KM-150s + DPA 4021's > Edirol R-44 (Oade Concert Mod) > 24bit 48kHz wav file > Soundforge (level adjustments, mixdown, set fades) > CDWave 1.95 (tracking) > Flac Frontend (level 7, align sector boundaries) > flac
Recorded and Produced by
nyctaper
2008-06-26
Setlist:
[Total Time 1:59:46]
01 [introduction]
02 Hey Bret (You Know What Time It Is)
03 Sunrise In The Land Of Milk And Honey
04 Show Me How This Thing Works
05 Hand Me My Inhaler
06 Teen Angst
07 100 Flower Power Maximum
08 The World Is Mine
09 Time Machine
10 I See The Light
11 Shake Some Action
12 Take Me Down To The Infirmary
13 St. Cajetan
14 [band introductions]
15 Turn On, Tune In Drop Out With Me
16 One Fine Day
17 Gimme One More Chance
18 The Riverside
19 Sweet Thistle Pie
20 Happy Birthday To Me
21 Eurotrash Girl
22 I Could Be Wrong, I Could Be Right
23 Get Off This
24 [encore break]
25 Friends
26 Seven Days
27 Low
If you email nyctaper for access to this recording, we expect that you will PLEASE SUPPORT Cracker, visit their website, visit their MySpace page, and purchase their official releases directly from the Store at their website [here] or from the 429 Records website [here].