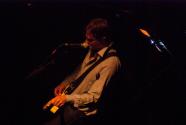 [photo courtesy of franklin64]
Although we were not previously familiar with the music of Danish band Mew prior to their set opening for NIN at Terminal 5 on Wednesday, like much of the crowd by the end of the epic "Comforting Sounds" we were duly impressed with the band's excellent mix of prog, 80s synth and Euro-style pop. The musical proficiency was obvious and the song structures were imaginative. Mew took advantage of the crowd's unfamiliarity with the material to perform five consecutive songs from their brand new release No More Stories, which is said to contain a more pop focus than their previous releases.
The set was recorded from the identical location as the NIN recording, with the identical equipment from the first half of NIN. The crowd was not nearly as packed for this set, and as a result there is less of "din" during the quiet moments. Enjoy!
Direct download of MP3 files (HERE)
Download the Complete show in FLAC [HERE].
Mew
2009-08-26
Terminal 5
New York, NY USA
Digital Master Audience Recording
Recorded from Directly in Front of Soundboard
Center Floor
DPA 4021s > Edirol R-44 (Oade Concert Mod) > 24bit 48kHz wav file > Soundforge (level adjustments, set fades, downsample) > CDWave 1.95 (tracking) > Flac Frontend (level 7, align sector boundaries) > flac
Recorded and Produced by nyctaper
2009-08-30
Setlist:
[Total Time 37:37]
01 New Terrain
02 Introducing Palace Players
03 Hawaii
04 Sometimes Life Isn't Easy
05 Special / Zookeeper's Boy / Special
06 Comforting Sounds
If you email nyctaper for access to this recording, we expect that you will PLEASE SUPPORT Mew, visit their website, visit their MySpace page, and purchase their official releases from the MewShop at their site [HERE].