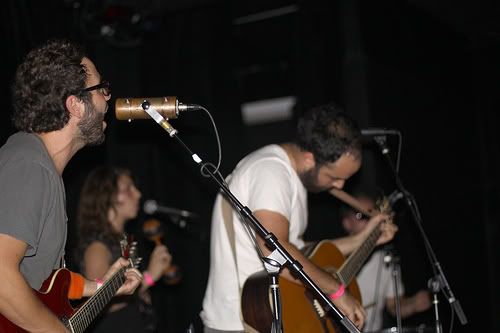 [photo courtesy of Maryanne Ventrice and Prefix Mag – more here]
If there were any irrational ideas that Blood Warrior was merely a vanity project for O'Death's Greg Jamie, those fears were dispelled within the first minute of Blood Warrior first ever NYC performance at the After The Jump Fest last Sunday at Littlefield. Nevermind that Greg is a modest and nice guy probably incapable of such vanity, but Blood Warrior was conceived equally between Greg and the multi-talented Joey Weiss, with significant contributions from Kristin Kellas. Like O'Death, the music of Blood Warrior is faithful to folk and bluegrass, but unlike O'Death's dark Appalachian influence, Blood Warrior could be better described as melancholy prairie folk. The harmonies were also quite outstanding — as Jamie's shakey tenor is complimented well by Kellas' beautiful soprano and Weiss's rich baritone and supplemented by Weiss's melodic guitar lines. Blood Warrior will release their first 7″ ("Darling Eyes" featured as track 06 on this recording) on Ernest Jenning Records in October. Blood Warrior will next perform at the Ernest Jenning CMJ showcase on October 21 at Knitting Factory Brooklyn, and then again on October 25 at Glasslands.
We recorded this set with the Neumann microphones placed at dead center, approximately 30 feet from the stage and combined the room mics with a stereo feed from the soundboard. This is a professional quality recording. Enjoy!
Direct download of MP3 files (HERE)
Download the Complete show in FLAC [HERE].
Blood Warrior
2009-08-30
After The Jump Festival
Littlefield
Brooklyn, NY USA
Digital Master Recording
Soundboard + Audience Matrix
Soundboard + Neumann KM-150s > Edirol R-44 (Oade Concert Mod) > 2x 24bit 48kHz wav files > Soundforge (level adjustments, mixdown, set fades) > CDWave 1.95 (tracking) > Flac Frontend (level 7, align sector boundaries) > flac
Recorded and Produced by nyctaper
2009-09-06
Setlist:
[Total Time 38:53]
01 Hummingbird
02 Blood Letting
03 Winters Day
04 King Day
05 Untitled New Song
06 Darling Eyes
07 Choir
08 Snake Seer
If you email nyctaper for access to this recording, we expect that you will PLEASE SUPPORT Blood Warrior, visit their MySpace page, and purchase their releases when they become available from the Ernest Jenning Record Co site [HERE].