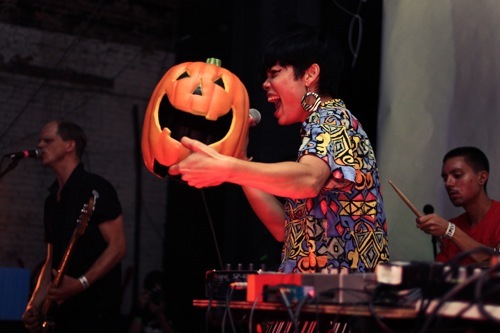 [photo courtesy of Impose Magazine – many more here]
Its hard to believe that its been almost seven months since we last saw These Are Powers — in February at an art gallery for their CD release show. On Saturday night, the scene was a world away. In a venue that could be best described as coming right out of the rumble scene in West Side Story, These Are Powers played underneath the old Highline railroad, surrounded by chain link fences, graffiti, and the smell of car oil and gasoline. While fortunately no one was knifed, the crowd did move to the stabbing beats propelled by the many gadgets manipulated by tech wizard Bill Salas perfectly syncopated with the thunder bass of Bill Noecker. In the months since we last saw TAP, Anna Barie has become even more animated on stage. Saturday's show saw Anna hurling large quantities of sugar delights into the crowd during "Candy", and performing virtually the entire "World Class Peoples" while being held aloft vertically by the crowd.
We recorded this set with microphones set up directly in front of the soundboard/video projection area, about 30 feet from the stage. We received a mono soundboard feed (which begins 5 minutes into the recording) which was mixed with the room mics in post production. The sound quality is quite excellent and represents our best audio capture of this amazing band. Enjoy!
Direct download of MP3 files (HERE)
Download the Complete show in FLAC [HERE].
These Are Powers
2009-09-05
Under The Highline
New York, NY USA
Digital Master Recording
Soundboard + Audience Matrix
Soundboard + Neumann KM-150s > Edirol R-44 (Oade Concert Mod) > 2x 24bit 48kHz wav files > Soundforge (level adjustments, mixdown, set fades) > CDWave 1.95 (tracking) > Flac Frontend (level 7, align sector boundaries) > flac
Recorded and Produced by nyctaper
2009-09-10
Setlist:
[Total Time 44:31]
01 [introduction]
02 Double Double Yolk
03 Easy Answer
04 Adam's Turtle
05 Untitled New Song
06 Gutter
07 Life Of Birds
08 Candy
09 World Class Peoples*
10 [encore break]
11 [Mash-Up]*
*with Ryan Sawyer on percussion
If you email nyctaper for access to this recording, we expect that you will PLEASE SUPPORT These Are Powers, visit their MySpace page, and purchase their official releases including their latest CD All Aboard Future from the Dead Oceans site [HERE].