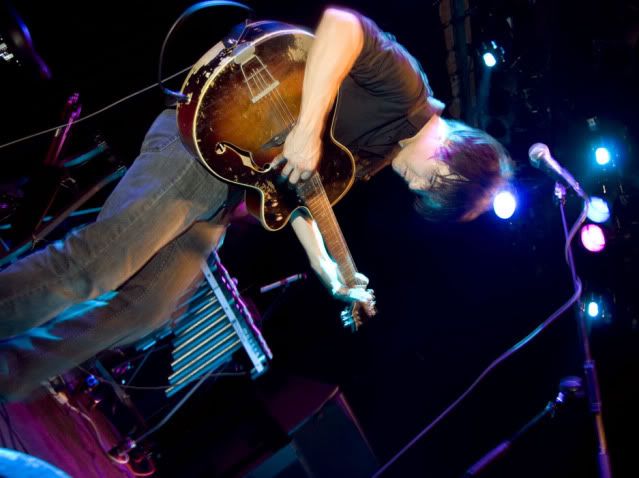 [photo courtesy of David Wells]
The Dodos are currently on an extensive tour in support of their new CD Time to Die. On Tuesday at Music Hall, the trio performed a set consisting primarily of the new album (all but one of the songs were played) in their inimitable hyper-percussive style. Meric Long's light-speed strumming and fingerpicking guitar work provides the bulk of the melodic structure, but the band's style is driven by the omnipresent drums of Logan Kroeber. The addition of multi-instrumentalist Keaton Snyder on xylophone and (what else) drums increases the depth of The Dodos sound, but ultimately its still all about the beats. For the set's highlight number, an eleven-minute version of "The Season", Meric even got into the drumming spirit, attacking a spare bass drum at the back of the stage before setting the drumsticks upon his prone guitar in a stretched out noisy jam that brought the set to a powerful close.
We recorded this set from the front and center of the balcony. While the instrumentation is quite clear, the sound quality upstairs this night was a bit muddy and the vocals are somewhat buried in the mix. With that caveat, enjoy this excellent set!
Direct download of MP3 files (HERE)
Download the Complete show in FLAC [HERE].
The Dodos
2009-10-13
Music Hall of Williamsburg
Brooklyn, NY USA
Four-Track Digital Master Recording
Recorded from Center Balcony Rail
Neumann KM-150s + DPA 4021's > Edirol R-44 (Oade Concert Mod) > 2x 24bit 48kHz wav files > Soundforge (level adjustments, mixdown, set fades) > CDWave 1.95 (tracking) > Flac Frontend (level 7, align sector boundaries) > flac
Recorded and Produced
by nyctaper
2009-10-14
Setlist:
[Total Time 1:20:00]
01 Small Deaths
02 Two Medicines
03 Paint The Rust
04 Longform
05 Fables
06 Jodi
07 Troll Nacht
08 Acorn Factory
09 Time To Die
10 This Is a Business
11 Red and Purple
12 [encore break]
13 Ashley
14 The Season
If you email nyctaper for access to this recording, we expect that you will PLEASE SUPPORT The Dodos, visit their MySpace page, and purchase Time to Die directly from Frenchkiss Records [HERE].