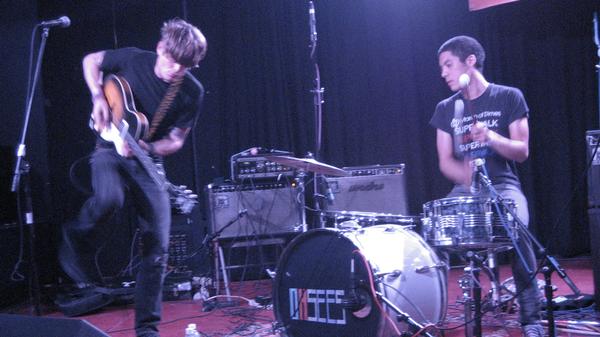 [photo from Thee Oh Sees MySpace page]
Acidjack reports:
"San Francisco's Thee Oh Sees are unmistakably Californian, with a fuzzed out garage/surf sound that gets the bodies moving and puts a smile on the faces of all. The band gave an energetic performance at Mercury Lounge to a packed crowd on Thursday night, showcasing some new material and a lot of the songs from their latest album Help in the process. Fans more familiar with bands like San Diego's Wavves and Brooklyn's Woods will find some similarities here — except these guys have been doing this (in some form or another) since 1997. Enjoy! Thanks to Thee Oh Sees for permitting this recording."
Acidjack recorded from the standard location at this venue with his newly refurbished AKG's and the sound quality is outstanding.
Direct download of MP3 files (HERE)
Download the Complete show in FLAC [HERE].
Thee Oh Sees
2009-10-08
Mercury Lounge
New York, NY
An ACIDJACK master recording
Equipment: AKG ck91 carded capsules (Busman Active Mod)>custom battery box>R-09HR (24/44.1)
Position: Clamp with pole to right of SBD cage, approx 10′ up, DIN
Mastering: WAV>Audacity (set fades, downsample to 16bit, slight EQ, tracking)>FLAC ( level 8 )
Setlist (courtesy of John Dwyer)
1) Enemy Destruct
2) Block of Ice
3) I Was Denied (from forthcoming album Warm Slime)
4) Meat Step Lively
5) Ghost in the Trees
6) Blood in Your Ear (from Warm Slime)
7) Mega-Feast (from Warm Slime)
8 ) Tidal Wave
9) Poison Finger
10) Quadrospazzed/Warm Slime medley
11) [crowd]
12) Destroyed Fortress Reappears
If you email nyctaper for access to this recording, we expect that you will PLEASE SUPPORT Thee Oh Sees, visit their MySpace page, and purchase their album Help from In The Red Records [HERE].