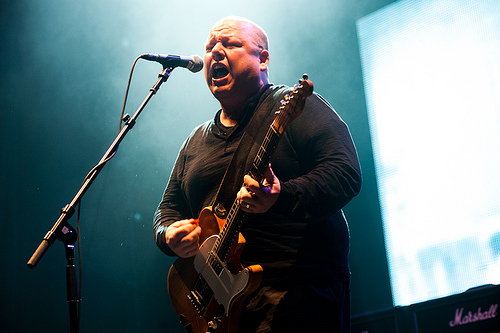 [photo courtesy of Ryan Muir]
Two nights after seeing the Feelies perform one of the early 80's legendary albums start to finish, we saw Pixies perform one of the late 80's greatest albums in similar fashion. While the Pixies have been accused in some circles of coasting on reputation, it was clear from our upfront position at Monday night's packed show that the band had a ton of fun performing Doolittle in its entirety. Opening the set with a four "b-sides", as Kim narrated, the band then worked its way through the album the old-fashioned way — side one and side two. While the performance was quite faithful to the record, the live version is more animated and fast-paced. Indeed, the set proper ended in less than hour. Pixies returned however for two sets of encores, including more b-sides and finished the night with two of their best known "non-Doolittle" songs.
This show is available as a "DOOLITTLE LIVE" recording through the Pixies website [HERE].
There is an alternative audience recording available HERE for those who have already purchased the "Doolittle Live" recording from the Pixies
Pixies
2009-11-23
Hammerstein Ballroom
New York, NY USA
Setlist:
[Total Time 1:23:13]
01 [introduction]
02 Dancing The Manta Ray
03 Weird At My School
04 Bailey's Walk
05 Manta Ray
06 Debaser
07 Tame
08 Wave of Mutilation
09 I Bleed
10 Here Comes Your Man
11 Dead
12 Monkey Gone to Heaven
13 Mr. Grieves
14 Crackity Jones
15 La La Love You
16 No. 13 Baby
17 There Goes My Gun
18 Hey
19 Silver
20 Gouge Away
21 [encore break]
22 Slow Wave of Mutilation
23 Into the White
24 [second encore break]
25 Isla De Encanta
26 Nimrod's Son
27 Where is My Mind
28 Gigantic
PLEASE SUPPORT Pixies, visit their website, and purchase the Minotaur box set directly from AINR website [here] or follow the Stuff link at I Love Pixies [here].