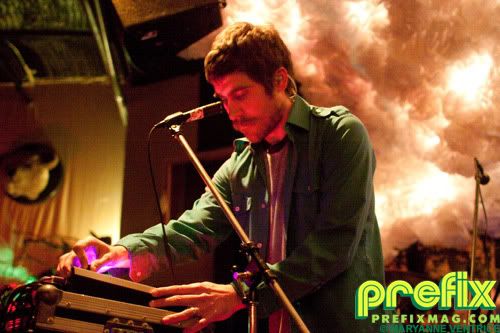 [photo courtesy of Maryanne Ventrice and Prefix Magazine]
Acidjack reports:
Brooklyn's Bear In Heaven are increasingly looking like a band that is going places. After their sold out show at Mercury Lounge in January it was starting to look like the Pitchfork-acclaimed band was on its way to being the next big thing. Watching the crowd swell well beyond fire-hazard capacity at Glasslands last night, it is safe to say that is true. Every inch of the venue was stuffed with partiers and fans waiting to see this band open for Secret Machines, even though it was clear that they could easily have been the headliner. As was the case at Mercury, the band's bass-driven sound caused some sound problems early on, but once that cleared up, fans seemed to get the point. The band's set drew entirely from their recent Beast Rest Forth Mouth, including a typically rousing rendition of "Lovesick Teenager" that got the crowd moving.
I recorded this set from a clamp to the floor of the balcony, directly in front of the stacks. Although the difficulties in the house mix are evident in the first few songs, I have cleaned the sound up to make an excellent mix. Enjoy!"
Direct download of MP3 files (HERE)
Download the Complete show in FLAC [HERE].
Bear In Heaven
2010-02-19
Glasslands
Brooklyn, NY
An acidjack master recording
Recorded and produced by acidjack
Exclusive download at nyctaper.com
Equipment: DPA 4021>Edirol R-44 (24/44.1)
Position: Clamp to center of balcony floor, DIN
Mastering: 24bit/44.1kHz WAV>Audacity (set fades, tracking, EQ, amplify each channel)>FLAC ( level 8 )
01 Drug A Wheel
02 Fake Out
03 Ultimate Satisfaction
04 Wholehearted Mess
05 Lovesick Teenager
06 Beast In Peace
07 banter
08 Dust Cloud
09 You Do You
10 Casual Goodbye
If you email nyctaper for access to these recordings, we expect that you will PLEASE SUPPORT Bear in Heaven, visit their website, and purchase their official releases directly from the Hometapes Records site [HERE].