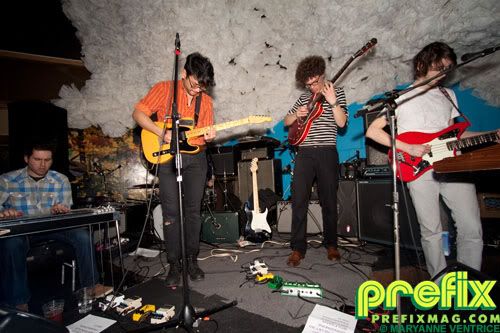 [photo courtesy of Maryanne Ventrice and Prefix Magazine]
Acidjack reports:
Brooklyn's Mon Khmer is comprised of founding members guitarist/vocalist Hammar and drummer Dave Cole, along with Matt Schenier (bass/synths) and Elias Meister (guitar/synths), and their sound reflects the members' diverse influences, from the music of India to classical, jazz and country. By the time Mon Khmer took the stage, Glasslands was packed, and the crowd was treated to a fantastic set that showcased numerous songs from their forthcoming debut LP, including the excellent song "Anniversary."
I recorded this set from the same location as the Bear In Heaven set and the sound is excellent. Enjoy!
Direct download of MP3 files (HERE)
Download the Complete show in FLAC [HERE].
Mon Khmer
2010-02-19
Glasslands
Brooklyn, NY
An acidjack master recording
Recorded and produced by acidjack
Hosted at nyctaper.com
Equipment: DPA 4021>Edirol R-44 (24/44.1)
Position: Clamp to center of balcony floor, DIN
Mastering: 24bit/44.1kHz WAV>Audacity (set fades, tracking, EQ, amplify each channel)>FLAC ( level 8 )
Tracks (setlist help needed)
01 Folk
02 Anniversary
03 banter
04 When to Let Go
05 banter
06 Golden Lights
07 Wolfgang
08 Birthplace
09 Passwords
10 Oslo
If you email nyctaper for access to these recordings, we expect that you will PLEASE SUPPORT Mon Khmer, visit their MySpace page, and keep a look out for the debut Mon Khmer LP due in the very near future.