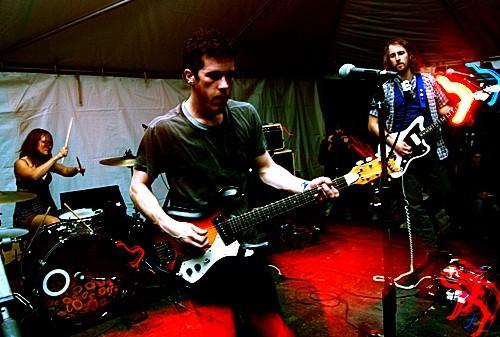 [photo by Victoria Renard]
Acidjack reports:
"Compared to some bands I have seen lately (like the totally unrelated Dinowalrus and Dinosaur Feathers, for example), The Vandelles have a readily classifiable sound. Their feedback-drenched, fuzzed-out surf-rock will be instantly recognizable to fans of bands like the Raveonettes, Singapore Sling, and recent tourmates Serena-Maneesh. That is not to say they are generic or uninteresting, however, as their songwriting and performance, including an all-female rhythm section, rises above their influences. At Littlefield last week, the band played with the lights off with only abstract video projections providing light, tearing through older material and songs from their self-titled EP, including their obvious bid for stardom, the soundtrack-ready (as in, easy to imagine in some sort of noir chase or murder scene) "Lovely Weather". Even though, like Dinowalrus, the band had a few instances of equipment/sound desk trouble, their set was a strong end to another night of the Sounds Like Brooklyn festival."
This set was recorded under the same conditions as the Dinowalrus recording and the sound is excellent. Enjoy!
The Vandelles are playing again this coming week on Friday February 26 at Cake Shop on an excellent bill that includes nyctaper favorites MiniBoone and El Jezel.
Direct download of MP3 files (HERE)
Download the Complete show in FLAC [HERE].
The Vandelles
2010-02-04
Littlefield
Brooklyn, NY
an acidjack master recording
recorded and produced by acidjack
hosted by nyctaper.com
Equipment: DPA 4021>Edirol R-44 (24/44.1)
Position: Center, micas at 8′, DIN
Mastering: 24bit/44.1kHz WAV>Audacity (set fades, tracking, amplify each channel, light EQ)>FLAC ( level 8 )
Setlist:
01 Get Down
02
03 banter/tuning
04 Bomb the Surf
05 banter/tuning
06 California Killer
07 banter/tuning
08 Lovely Weather
09 Swell to Heaven
10
11 Dash N' Dive
12 Bad Volcano
If you email nyctaper for access to this recording, we expect that you will PLEASE SUPPORT The Vandelles, visit their website, visit their MySpace page, and purchase their official releases directly from the SVC Records [here].