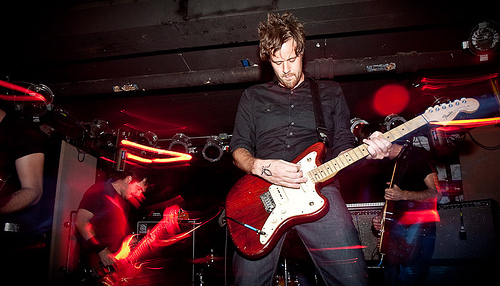 [Photos by Lauren Colchamiro]
Caspian are America's answer to Mogwai.   I hate to use that kind of shorthand when talking about an instrumental rock band – it is already too easy to lump disparate bands with a very loosely defined common theme together.  After all, Explosions in the Sky (who we have recorded before) and God is an Astronaut don't sound that much alike, and neither do Caspian and many other bands.  But having seen this Boston-based band live, I do think mine is an apt comparison, or at least, it describes the band's set at The Studio at Webster Hall accurately.  Like the well-loved Scotsmen I compared them to, Caspian's music thrives on the loud-soft dynamic, with the ability to shift from calm to storm in a split second.   In Caspian's particular case, their live sound this night tended toward the heavier, more blunt-force end of the spectrum, toning down some of the textural richness found on their records.  Part of this is probably because the fans like it that way.
The band seemed gratified by the enthusiastic turnout, pointing out that NYC was the closest date they were doing to their home in Boston, and that we felt almost like a "hometown crowd."   For their last song, the band was joined for "Sycamore" by members of the opening acts for a massive, multi-drummer blowout on a scale I haven't seen since my last Boredoms show!  Caspian are touring the U.S. right now in support of their most recent album, Tertia.  They have a few East Coast dates left before their swing takes them through the midwest and west coast, and then Europe.  Don't miss them – this music is best experienced live.
I recorded this set way up front with the DPA 4061 miniature omnidirectional microphones.  The result is a very "in your face" recording that captures the awesome power of this band perfectly.  Although there is some annoying crowd chatter audible during the opening 2 minutes, and some chatter from the bar that you can hear during quiet passages, it is generally smooth sailing for the most part (it's not like you could hear anything over the band anyway).  Enjoy!
Album art by Michael Ricci is available here.
This Recording is now available for Download in FLAC and MP3 at Archive.org [HERE].
Caspian
2010-04-15
The Studio at Webster Hall
New York, NY  USA
An acidjack master recording
Recorded and produced by acidjack for nyctaper.com
Equipment: DPA 4061 (Coresound "HEB")>Sony PCM-M10 (24/44.1)
Position: FOB, DFC, about 10? from stage, HRTF
Mastering: 24bit/44.1kHz WAV>Audacity (set fades, tracking, EQ, amplify each channel, downsample)>FLAC Level 8
Tracks (65min runtime) (thank you to the first commenter for the setlist corrections)
1. Intro/annoying girl talking
2. La Cerva
3. Malacoda
4. Interlude
5. Of Foam and Wave
6. banter
7. Concrescence
8. Moksha
9. Quovis / Further Up / Further In
10. encore break
11. Brombie
12. banter
13. Sycamore
If you email nyctaper for access to this recording, we expect that you will PLEASE SUPPORT Caspian, visit their MySpace page, and purchase Tertia and their other excellent releases here.