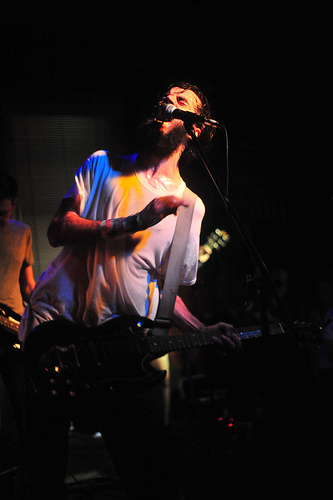 [photo by J Caldwell]
Titus Andronicus capped off their 53-day "Moni-tour" with an epic show at Maxwell's that those in the know were calling "the best they've ever played". When I ran into Patrick before the show he greeted me with "I'm glad you're here" and told me that he expected this show would be a good one to record — he was right. As the band opened with the crowd singalong "A More Perfect Union", it was obvious that the energy in the room was crackling. Titus sold out venues many times the size of Maxwell's this tour, so that Friday's small crowd was all diehards anxious to vocalize their support. The band played much of The Monitor material, with a few older numbers ("Joset" and "Mahwah" were notable), and performed a Spider Bags cover with Spider Dan on vocals. By the time the band reached the end of the set, Patrick gave a nice little speech about the tour, and concluded the show with a powerful "Four Score and Seven". This set presents the perfect bookend for the early March tour-opener at Bowery Ballroom, which we also recorded.
I recorded this set in the usual location in this venue, with the microphones mounted high inside the soundboard booth mixed with a feed from the board. The sound quality is outstanding. Enjoy!
Direct download of MP3 files (HERE)
Download the Complete show in FLAC [HERE].
Titus Andronicus
2010-04-24
Maxwell's
Hoboken, NJ USA
Digital Master Recording
Soundboard + Audience Matrix
Soundboard + Neumann KM-150s > Edirol R-44 (Oade Concert Mod) > 2x 24bit 48kHz wav files > Soundforge (level adjustments, mixdown, set fades) > CDWave 1.95 (tracking) > Flac Frontend (level 7, align sector boundaries) > flac
Recorded and Produced by nyctaper
2010-04-26
Setlist:
[Total Time 1:30:26]
01 A More Perfect Union
02 Joset of Nazareth's Blues
03 A Pot in Which to Piss
04 Upon Viewing Brueghel's "Landscape with the Fall of Icarus"
05 Richard II
06 Fear and Loathing in Mahwah, NJ
07 No Future Part Three: Escape from No Future
08 Titus Andronicus
09 My Time Outside the Womb
10 [banter]
11 Theme From "Cheers"
12 [banter]
13 Waking Up Drunk (Spider Bags)
14 [banter]
15 The Battle of Hampton Roads
16 Titus Andronicus Forever / …And Ever
17 [banter]
18 Four Score and Seven
If you email nyctaper for access to this recording, we expect that you will PLEASE SUPPORT Titus Andronicus, visit their website, visit their MySpace page, and purchase The Monitor directly from Beggar's Group/XL Recordings [here].