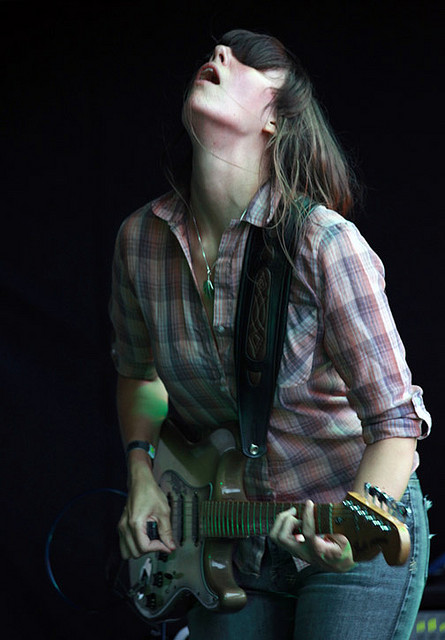 [She Keeps Bees at the Green Man Festival, August 2009.  Photo courtesy of Rachel Lipsitz at littletrousers.com]
She Keeps Bees vocalist Jessica Larrabee can claim an impressive line of predecessors and contemporaries, the most obvious of the former being Janis Joplin, and the closest of the latter being Heartless Bastards' Erika Wennerstrom.  That Larrabee elicits such comparisons is not an accusation of plagiarism, but a testament to the power of her delivery.  Together with drummer Andy LaPlant, She Keeps Bees play unpretentious, raw blues rock without apology or extra bullshit.  The band's spare production – evident on their records, particularly the excellent Nests, as well as in their stripped-down live show – provides the perfect vehicle for that voice, cracking with heartbreak in one song, exhorting a lover in another, wailing in exultation the next.  This band isn't out to win awards for changing the game, but they are playing it at a hell of a high level.
Although they hail from Brooklyn, I first discovered She Keeps Bees through a British taper friend who had caught them opening for another band in the UK.  Perhaps it was fitting then, that my live introduction to them came as they opened for nyctaper favorites The Joy Formidable (whose set will be posted soon) at the Mercury Lounge.  Catch their free show this Wednesday, May 12, with the excellent band Papa at Brooklyn Bowl and see for yourself.
I recorded this set from the usual spot in the venue with the DPA microphones combined with a stereo soundboard feed.  The combination produced a recording of exceptional clarity and high quality.  Hear it for yourself on the posted sample, "Ribbon."  Enjoy!
Direct download of MP3 files (HERE).  Listen to "Ribbon" (HERE).
Download the Complete show in FLAC [HERE].
She Keeps Bees
2010-05-10
Mercury Lounge
New York, NY  USA
An acidjack master recording
Recorded and produced by acidjack for nyctaper.com
Equipment: Soundboard+DPA 4021>Edirol R-44 (Oade Concert Mod) (24/44.1)
Position: Clamp to right side of SBD cage, 8ft total height)
Mastering: 2×24bit WAV>Audacity (mixdown, set fades, downsample, tracking)>FLAC Level 8
01 Pile Up
02 Release
03 banter
04 Gimme
05 "I Don't Believe You"
06 Wear Red
07 Get Gone
08 [unknown]
09 Ribbon
10 Cold Eye
If you email nyctaper for access to this recording, we expect that you will PLEASE SUPPORT She Keeps Bees, visit their website, and purchase their excellent records from your favorite retailer.  Amazon link here.