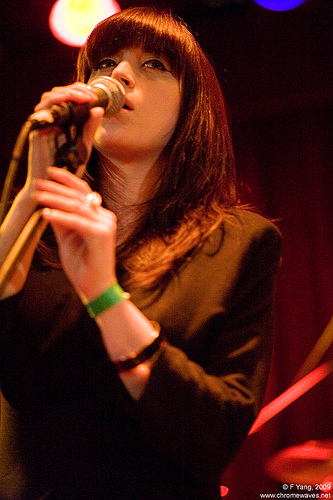 [Photos of The Secret History's performance last year at NYC Popfest 2009 courtesy of F Yang at chromewaves.net]
Despite some hefty competition from the season finale of a certain fan-beloved TV show, real indiepop fans knew that the only place to be this past Sunday was sharing the cozy and welcoming Littlefield with luminaries of the genre from across the U.S. and Sweden at an all-day event. The Secret History, the penultimate act of the night and the only NYC-based band on the bill, were probably the strongest of the fourth and final night of the NYC Popfest 2010.
I recorded this set with the DPA mics and a top-quality soundboard feed. This recording emphasizes the soundboard feed a bit more to bring out the strength of the vocals. Enjoy!
Direct download of MP3 files [HERE].
Download the Complete show in FLAC [HERE].
The Secret History
2010-05-23
NYC Popfest 2010
Littlefield
Brooklyn, NY
An acidjack master recording
Recorded and produced for nyctaper.com by acidjack
Equipment: Stereo soundboard feed + DPA 4021>Edirol R-44 (Oade Concert Mod) (24/44.1)
Position: ROC, to left side of SBD cage, mics at 8′ pointed at stacks
Mastering: 2x24bit/44.1kHz WAV>Audacity (mixdown, set fades, tracking, amplify channels)>FLAC Level 8
Tracks
01 intro
02 Johnny Anorak
03 banter
04 Our Lady of Stalingrad
05 Its Not the End of the World, Jonah
06 God Save The Runaways
07 banter
08 Love Theme
09 Johnny Nightmare
10 Our Lady of Pompeii
11 Count Backwards
12 Sister Rose
If you email nyctaper for access to this recording, we expect that you will PLEASE SUPPORT The Secret History, visit their website, and purchase their official releases from their site [HERE].