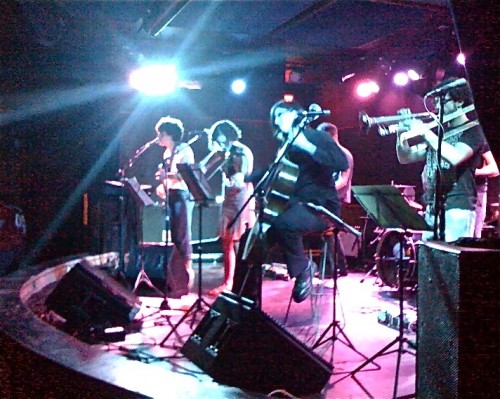 [iPhone photos by acidjack]
Emanuel and The Fear continue to expand their horizons and win over new fans with a multi-faceted sound that references classical music, bluesy barroom rock, folk, and indie pop.  On this Monday night at the Knitting Factory, the band was hosted by the Onion A/V Club for a showcase that featured The Silent League and NYCTaper pals Dinosaur Feathers. Since we last saw the band, they have debuted their new full length album Listen, which delivers on the promise of their lauded first EP.  This set gave ample coverage to the many different styles this 11-member band is capable of, including a new solo number by Emanuel Ayvas called "Drinking Song," as well as many of the standouts from the 19-track Listen.  Thanks to Paper Garden Records for hosting us at this event.
I recorded this set with a four-microphone rig that perfectly captured both the room and the direct sound from the PA system.  You can stream the entire show below, and the files have been properly tagged for importing into iTunes or your favorite music player.  Enjoy!
Stream entire show:
Audio clip: Adobe Flash Player (version 9 or above) is required to play this audio clip. Download the latest version here. You also need to have JavaScript enabled in your browser.
Direct download of MP3 files (HERE)
Download the Complete show in FLAC [HERE].
Emanuel and the Fear
2010-06-21
Knitting Factory
Brooklyn, NY  USA
An acidjack master recording
Recorded and produced by acidjack for nyctaper.com
Equipment: Schoeps CMC641+DPA 4021>Edirol R-44 (Oade Concert Mod) (24/44.1)
Position: Clamp to right side of SBD cage, at 8?, 4021s XY, hypers pointed at stacks
Mastering: 2×24bit/44.1kHz WAV>Audacity (mixdown, tracking, amplify channels, downsample)>FLAC Level 8
01 Intro
02 Song for A Girl
03 Jimme's Song
04 tuning/noise
05 Guatemala
06 Whatever You Do
07 The Rain Becomes The Clouds
08 banter
09 Want To Be
10 Drinking Song
11 Same Way
12 Over & Over
13 Alright
14 [encore break]
15 The Raiman
If you download this recording from NYCTaper, we expect that you will PLEASE SUPPORT Emanuel and the Fear, visit their website, and purchase their first full-length, Listen, from Paper Garden Records here.