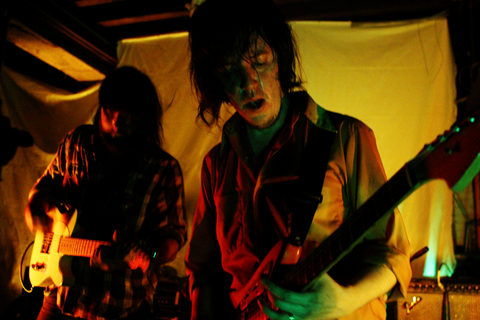 [The Fresh & Onlys at Monster Island Basement earlier this year. Photos courtesy of Erin Kilkenny]
The Fresh & Onlys have a delightfully San Francisco sound, modern rock n' roll with just a dash of 60s hippie.  Despite getting lumped in with the garage/lo-fi crowd (in no small part due to the analog/DIY style of their latest, Grey Eyed Girls), these guys are serious players, and their live sound is transporting.  This show at the Woodsist showcase at Music Hall of Williamsburg for the 2010 Northside Festival was a highlight of the festival so far (as was, frankly, every act on this bill).  I was first introduced to The Fresh & Onlys when they opened up for Thee Oh Sees last year at Mercury Lounge(Oh Sees recording here), and they have only gotten better since then.  We are pleased to offer both last night's recording (in streaming and download) and that recording (download only) to our readers.  Many more Northside Festival sets will be posted in the coming days, but please do yourself a favor and come out and see the last day of shows.
Thanks to Jeremy and Woodsist for putting on an amazing showcase and their continued support of NYCTaper.
I recorded this set with a four-microphone setup from our usual spot at Music Hall, and the sound is excellent.  Enjoy!
Stream the Music Hall show:
Audio clip: Adobe Flash Player (version 9 or above) is required to play this audio clip. Download the latest version here. You also need to have JavaScript enabled in your browser.
Download the Music Hall MP3s [HERE]
Download the Mercury Lounge MP3s [HERE]
Download the Complete shows in FLAC [MUSIC HALL] / [MERCURY].
The Fresh & Onlys
2010-06-25
Music Hall of Williamsburg
Brooklyn, NY  USA
An acidjack master recording
Recorded and produced by acidjack for nyctaper.com
Equipment: Schoeps CMC641+DPA 4061>Edirol R-44 (Oade Concert Mod) (24/44.1)
Position: LOC, clamp to sound booth, 9ft, hypers DIN, omnis 1.5ft split
Mastering: 2×24bit/44.1kHz WAV>Audacity (mixdown, EQ, set fades, tracking, amplify channels, balance levels, downsample to 16bit>FLAC Level 8
Tracks
01 Fascinated
02 Feelings In My Heart
03 [unknown]
04 Endless Love
05 Invisible Forces
06 Grey-Eyed Girl
07 You're Known to Wander
08 August In My Mind
09 Waterfall
10 Diamond In the Dark
11 I'm a Thief
The Fresh & Onlys
2009-10-08 Mercury Lounge, New York, NY
An acidjack master recording
Equipment: AKG ck91 (Busman active mod)>custom BB>R-09HR (24/48)
Position: Clamp to right side of SBD cage, 11ft total height, DIN
Mastering: WAV>Audacity (set fades, tracking, EQ, downsample)>FLAC Level 8
Tracks
01 intro
02 D.Y.
03 Feelings In My Heart
04 Fascinated
05 Summer of Love
06 Grey-Eyed Girl
07 Invisible Forces
08 Come Dance With Me
09 Happy To Be Living
10 Endless Love
11 [unknown]
12 Clowns (Took My Baby Away)
13 Laughter Is Contagious
If you download this recording from NYCTaper, we expect that you will PLEASE SUPPORT The Fresh & Onlys,visit their website, and purchase their records from Woodsist Records here.