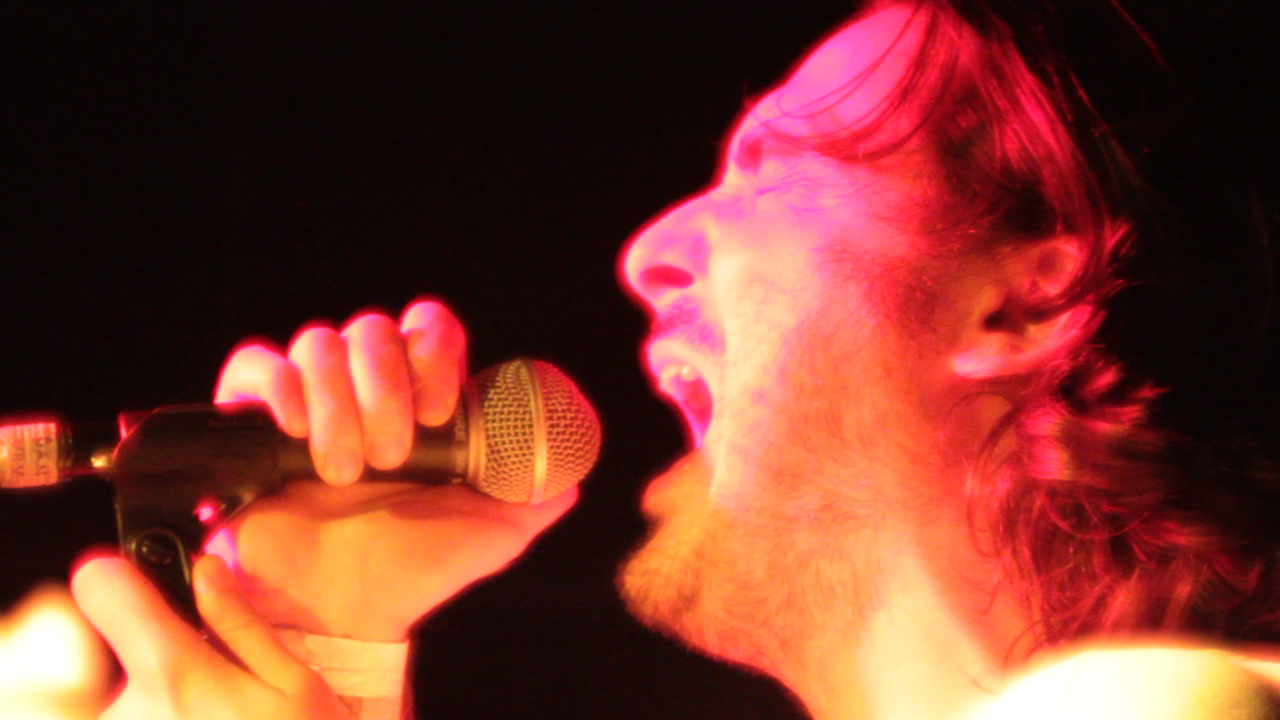 [screencap by Ian Perlman]
The Cap'n Jazz reunion tour came to NYC on Sunday and the band rewarded their patient fans by playing two shows in a matter of about six hours. The late show at Maxwell's began at about 11 p.m., at the end of a day where their early show planned for the afternoon was moved because of rain and eventually took place at Brooklyn Bowl at 6:30 (also recorded, coming soon). Despite the crazy and hectic day, the late performance was neither ragged nor tired — Cap'n Jazz clearly brought their A-game across the river to New Jersey and in this intimate venue, the energy was palpable. Tim took time between many of the songs to interact with the crowd, who spent much of the show in a euphoric state — the stage jumping and moshing that took place in Brooklyn was toned down as this crowd was there more to see the music than the scene. For a band that basically produced one album and one compilation, the setlist consisted of about half their entire catalog.
I recorded this set as I do all shows at this venue — Neumann's at the cage mixed with a board feed. On this particular night, the band's FOH and Maxwell's superb house soundman worked in perfect unison and the venue sound was mixed to perfection. I am amazed at how good this recording sounds. Enjoy!
Stream "Oh Messy Life":
Audio clip: Adobe Flash Player (version 9 or above) is required to play this audio clip. Download the latest version here. You also need to have JavaScript enabled in your browser.
Direct download of complete show in MP3 files (HERE)
Download the Complete show in FLAC [HERE].
Cap'n Jazz
2010-07-25
Maxwell's
Hoboken, NJ USA
Digital Master Recording
Soundboard + Audience Matrix
Soundboard + Neumann KM-150s > Edirol R-44 (Oade Concert Mod) > 2x 24bit 48kHz wav files > Soundforge (level adjustments, mixdown, set fades) > CDWave 1.95 (tracking) > Flac Frontend (level 7, align sector boundaries) > flac
Recorded and Produced by nyctaper
2010-07-27
Setlist:
[Total Time 56:52]
01 Yes, I Am Talking To You
02 Que Suerte!
03 [banter]
04 The Sands Have Turned Purple
05 [banter]
06 Basil's Kite
07 Little League
08 Oh Messy Life
09 [banter]
10 Tokyo
11 [banter]
12 In The Clear
13 Planet Shhh
14 [banter]
15 Puddle Splashers
16 [banter]
17 Olerud
18 Forget Who We Are
19 [encore break]
20 Precious
21 Take On Me
22 [banter]
23 Ooh Do I Love You
If you email nyctaper for access to this recording, we expect that you will PLEASE SUPPORT Cap'n Jazz, visit their website, and purchase their complete discography compilation Analphabetapolothology from the Jade Tree Records site [HERE].