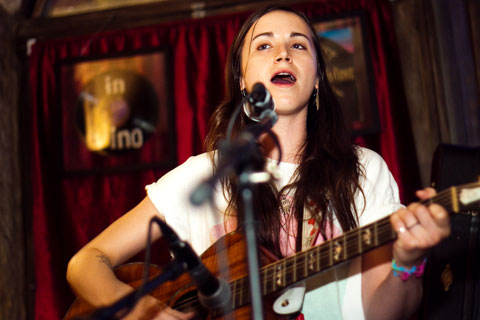 [photo courtesy of Kyle Dean Reinford Photography]
This Sunday was the third installment of the Vivo in Vino concert series, which matches artists with winemakers for a night of music and vino. This week featured one of our favorites Holly Miranda, along with the superb boutique California winery Bear Flag. This was our first experience with the Vivo in Vino series, and without question we will not miss another one — this was simply the best time I've had at a concert in several years. Perhaps fueled by the excellent wine or the welcoming urban-rustic surroundings of the fine wine bar In Vino, it just seemed that everyone in the packed room was there for merriment and music. Holly in particular was a joy to behold, as she performed a series of eclectic covers in her powerful voice and inimitable style with a feeling like she was both enjoying the songs and having fun with the audience.
I recorded this set with the DPA's mounted to a pole about 15 feet from the stage and mixed with an RCA out from the small PA box. The vocals are dominant in the mix in large part because the system did not pick up much of the guitar in the speakers. With that caveat, enjoy!
Stream "Lover, You Should Have Come Over" (Jeff Buckley cover):
Audio clip: Adobe Flash Player (version 9 or above) is required to play this audio clip. Download the latest version here. You also need to have JavaScript enabled in your browser.
Direct download of complete show in MP3 files (HERE)
Download the Complete show in FLAC [HERE].
Holly Miranda
2010-08-08
Vino In Vino
New York, NY USA
Digital Master Recording
Soundboard + Audience Matrix
Soundboard + DPA 4021s > Edirol R-44 (Oade Concert Mod) > 2x 24bit 48kHz wav files > Soundforge (level adjustments, mixdown, set fades) > CDWave 1.95 (tracking) > Flac Frontend (level 7, align sector boundaries) > flac
Recorded and Produced by nyctaper
2010-08-10
Setlist:
[Total Time 48:12]
01 [introduction/wine discussion]
02 Please Please Please Let Me Get What I Want (Smiths)
03 Waves
04 I'm Your Man (Leonard Cohen)
05 Secret Identity
06 Glass, Concrete & Stone (David Byrne)
07 [set break + introduction]
08 I'd Rather Go Blind (Etta James)
09 I'm On Fire (Springsteen)
10 God Damn the Sun (Swans)
11 Lover, You Should Have Come Over (Jeff Buckley)
12 [banter/audience participation practice]
13 Ex-Factor (Lauren Hill)
If you email nyctaper for access to this recording, we expect that you will PLEASE SUPPORT Holly Miranda, visit her website, visit her blog, and purchase The Magician's Private Library directly from the Beggars Group website [HERE].