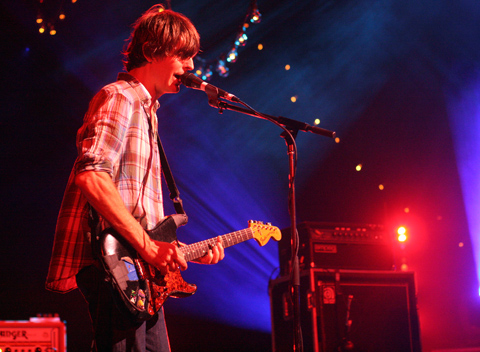 [photo courtesy of Music Snobbery]
Night three of Pavement's New York run was a wet one.  After the clear skies and perfect temperatures of Sunday's Williamsburg Waterfront show, and the previous night at Central Park Summerstage, Wednesday night was a hot, wet mess.  Shortly into the show, the skies opened up and we all got soaked, but even with a delay for lightning, Pavement managed to play their entire planned set, and a killer one at that, closing out the proceedings with a thunderous "Conduit for Sale!" in which Bob Nastanovich pulled out absolutely all the stops on the vocals.  Drenched but happy, the still-strong crowd returned the favor, singing along to the chorus and giving Pavement another triumphant notch in their belt.
This show was tough to record, given that it was pouring rain, but despite the shirt on my head covering my mobile rig, the recording came out quite nicely.  Enjoy!
Direct download of MP3 files [HERE]
Download the Complete show in FLAC [HERE].
Pavement
2010-09-22
Central Park Summerstage
New York, NY USA
An acidjack master recording
Recorded and produced by acidjack for nyctaper.com
Equipment: Audix 1280c>Church Audio Active Cables>SPSB-10>Sony PCM-M10 (24/44.1)
Position: Mobile rig, near right stack
Mastering: 24bit/44.1kHz WAV>Audacity (set fades, tracking, compress wind noise, compress/hard limit clapping, EQ, amplify and balance)>FLAC ( level 8 )
01 intro/banter
02 Heckler Spray>
03 In the Mouth of a Desert
04 Perfume V
05 Trigger Cut
06 Unfair
07 Range Life
08 Starlings of the Slipstream
09 Spizzle Truck
10 Shady Lane
11 Fight This Generation
12 Summer Babe
13 Cut Yr Hair
14 Kennel District
15 Gold Soundz
16 Zurich Is Stained
17 Stereo
18 set break for lightning
19 The Hexx
20 Two States
21 Spit On A Stranger
22 Grounded
23 Silent Kid
24 Father To A Sister of Thought
25 banter
26 Stop Breathin
27 encore break
28 Date With Ikea
29 banter
30 Lions (Linden)
31 Here
32 Conduit For Sale!
If you download this recording from NYCTaper, we expect that you will continue to support Pavement, visit their official website, go to shows on this tour, and purchase the records and merch you don't already own from the band's official store or Matador Records.