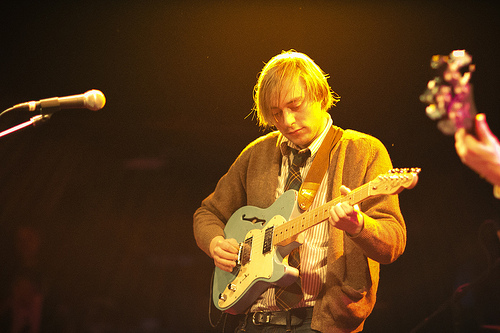 [Photos by Eloy Anzola. Check out his website here and his Flickr stream here]
To those who spent last Friday night avoiding the winter weather, burrowing into the couch and watching Winter's Bone or similar winter-related Oscar bait: You blew it. The critically acclaimed Ridgewood, NJ-based guitarist and songwriter Julian Lynch, whose latest record Mareearned raves this year, gave an outstanding performance that put his axe skills front and center. Mare is a reasonably sedate work, and it incorporates a range of instrumentation that reflects Lynch's background in ethnomusicology (which he still studies at the University of Wisconsin). To the weather-braving crowd at Music Hall of Williamsburg, Lynch gave us a more guitar-driven band, with focused, tight solos, some increased tempos (witness the sped-up "Just Enough," one of my favorite Mare tracks) and one mind-blowing jam on "Travelers." Nonetheless, the show retained the mellow feel of Lynch's recorded material, as well as its outstanding variety of sonic textures and rhythms, referencing at various times drone, folk, country, pop and rock. Coming off of a major performance at ToddP's New Year's Eve show, headlining Music Hall was another worthy notch in Lynch's belt.
I recorded this set from the balcony with the Schoeps microphones. The sound quality is excellent. Enjoy!
Stream "Just Enough":
Audio clip: Adobe Flash Player (version 9 or above) is required to play this audio clip. Download the latest version here. You also need to have JavaScript enabled in your browser.
Stream "Travelers":
Audio clip: Adobe Flash Player (version 9 or above) is required to play this audio clip. Download the latest version here. You also need to have JavaScript enabled in your browser.
Direct download of MP3 files [HERE]
Download the Complete show in FLAC [HERE].
Julian Lynch
2011-01-07
Music Hall of Williamsburg
Brooklyn, NY USA
An acidjack master recording
Recorded and produced by acidjack for nyctaper.com
Equipment: Schoeps CMC6/mk41>Edirol R-44 [Oade Concert Mod] (24/48)
Position: Right balcony, mics on extension arm, pointed at stacks
Mastering: 24bit/48kHz WAV>Audacity (set fades, tracking, light EQ, amplify and balance, downsample)>FLAC ( level 8 )
Tracks
01 Terra
02 Just Enough
03 Nen Vole
04 Stomper
05 Rivers
06 Back
07 Travelers
08 Mare
09 [tuning]
10 Rancher
If you download this recording from NYCTaper, we expect that you will PLEASE SUPPORT Julian Lynch, visit his website and bandcamp page and purchase his official releases from Olde English Spelling Bee.