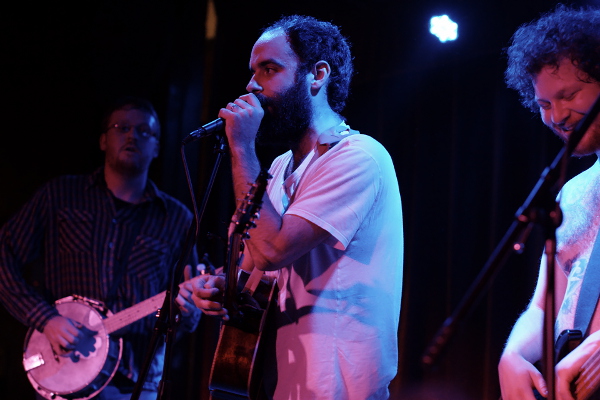 [photo courtesy of Marcus Lauer]
O'Death is back. In March, they will embark on a month-long cross-country tour. After two years of dormancy during which drummer David Rogers-Berry fought cancer, the band is ready to return. O'Death has recorded an entire new album, which will be released in the coming months. For a warmup, O'Death appeared Saturday night at Bell House. The band also discovered that their fan base is still very much intact and as ready as they are for the return. About half of the packed venue joined on the floor for an impromptu dance/mosh pit, as the band worked through an hour long set of their best material. The set also featured three of the new songs played for the first time live. O'Death will return to Brooklyn for a gig on April 15 at a venue to be determined.
We recorded this set with the Neumanns from the elevated area next to the soundboard. The sound quality is excellent. Enjoy!
Stream "Allie Mae Reynolds":
Audio clip: Adobe Flash Player (version 9 or above) is required to play this audio clip. Download the latest version here. You also need to have JavaScript enabled in your browser.
This Recording is now available for Download in FLAC and MP3 at Archive.org [HERE].
O'Death
2011-01-15
Bell House
Brooklyn, NY USA
Digital Master Audience Recording
Raised Platform at Front of Board
Neumann KM-150s > Edirol R-44 (Oade Concert Mod) > 24bit 48kHz wav file > Soundforge (level adjustments, mixdown, set fades) > CDWave 1.95 (tracking) > Flac Frontend (level 7, align sector boundaries) > flac
Recorded and Produced by nyctaper
2011-01-17
Setlist:
[Total Time 59:22]
01 Home
02 Only Daughter
03 Adelita
04 Black Dress [new song]
05 On An Aching Sea
06 Underwater Nightmare
07 [banter]
08 Bugs [new song]
09 Fire On Peshtigo
10 [banter2]
11 Mountain Shifts
12 Legs To Sin
13 Alamar [new song]
14 Lowtide
15 [banter3]
16 Down To Rest
17 [encore break]
18 Spider Home
19 Allie Mae Reynolds
If you email nyctaper for access to this recording, we expect that you will PLEASE SUPPORT O'Death, visit their website, and purchase their official releases at the Ernest Jenning Record Co. website [HERE].