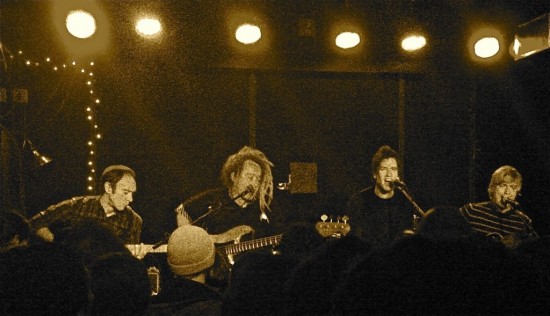 [Photos by acidjack]
We had the pleasure of seeing Nada Surf play two very different types of special shows in 2010. First, there was their The Weight Is A Gift full-album runthrough that we recorded at the Bell House in March. And, at the end of the year, this very special not-quite-acoustic show at The Rock Shop to benefit Little Kids Rock, a worthy charity that provides free musical instruments and music instruction to public schools. True to form, the 90s veterans were relaxed and cheerful as they played to an enthusiastic group of fans jammed into The Rock Shop's jewel box of a showroom. The show ended up being "not-quite" acoustic as the band opted for electric guitars in some cases due to problems with their acoustics, but the arrangements still reflected the more intimate nature of this show. Joined by Doug Gillard of Guided By Voices, the stripped-down arrangements suited the band, bringing frontman Matthew Caws' sweet, distinctive vocals to the forefront, especially his knack for delivering a hooky chorus (for example, on this outstanding rendition of "Blonde on Blonde").
I admit that I sometimes have to remind myself that Nada Surf is a New York band, so preternaturally sunny is their sound. But that is part of the beauty of this band, whose staying power has resulted from talent and songwriting rather than trend-mining. The band's airy demeanor also proved to be an excellent antidote to both the freezing weather and the nascent depression of the holiday season. These well-crafted, approachable songs may seem better suited to a road trip singalong than to a tiny bar in Gowanus in midwinter, sure – but they felt damn good on this night.
Watch for a new record from Nada Surf in 2011, which will follow their 2010 cover album, If I Had A Hi-Fi.
I recorded this set from our usual spot at Rock Shop with a soundboard feed and the DPA microphones. The results are outstanding. Enjoy!
Stream "Blonde on Blonde":
[audio:http://www.nyctaper.com/N2306NadaSurf0210/16 Blonde on Blonde.mp3]
Stream "Electrocution":
[audio:http://www.nyctaper.com/N2306NadaSurf0210/11 Electrocution.mp3]
Direct download of MP3 files [HERE]
Download the Complete show in FLAC [HERE].
Nada Surf
2010-12-14
Rock Shop
Brooklyn, NY USA
An acidjack master recording
Recorded and produced by acidjack for nyctaper.com
Equipment: Soundboard+DPA 4021>Edirol R-44 [Oade Concert Mod] (24/48)
Position: LOC, in front of soundboard, 8′, PAS
Mastering: 2x24bit/48kHz WAV>Audacity (compress/limit segments of board feed, mixdown, set fades, light EQ to audience track, tracking, amplify and balance, downsample)>FLAC ( level 8 )
01 intro
02 Weightless
03 Happy Kid
05 Whose Authority
06 banter
07 Killian's Red
08 Love Goes On [Go-Betweens]
09 What Is Your Secret
10 Enjoy The Silence [Depeche Mode]
11 banter
12 Electrocution
13 banter
14 80 Windows
15 banter
16 Do It Again
17 Blonde on Blonde
18 Always Love
19 banter
20 The Way You Wear Your Head
21 Paper Boats
22 See These Bones
If you email nyctaper for access to this recording, we expect that you will PLEASE SUPPORT Nada Surf, visit their website, and purchase their official releases from the band's official store here.