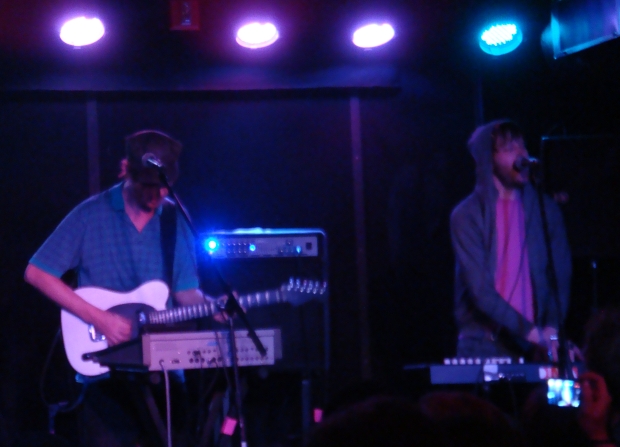 [photo by Johnny]
Judging by the gig I saw this night at The Rock Shop, it's no wonder that Brooklyn-based The Forms are sharing stages with some of indie rock's best acts and garnering quite a bit of attention.  Beginning their show by walking through the crowd with a steel drum and accordion and playing a very unique take on their song, "Knowledge In Hand", Alex Tween and Matt Walsh treated us to a brilliant set of their intricate rhythms and melodies.  Being the release show for their 'Derealization' disc, they played half of its tracks, a few from previous albums and even some yet-to-be-released nuggets.  With a sound and structure that defies most genres, I suggest that you check these guys out and keep your eye on them.
Thanks to The Forms engineer Jeff Stultz and the house engineer, Shane, we were able to get a feed from the board to compliment our microphones.  With this top-notch mix, the resulting recording is excellent.  Enjoy!
Stream "Finally":

Audio clip: Adobe Flash Player (version 9 or above) is required to play this audio clip. Download the latest version here. You also need to have JavaScript enabled in your browser.
Direct download of the complete show in MP3 [HERE]
Direct download of the complete show in FLAC [HERE]

If either of the links are no longer working, email nyctaper with a request for the download location of the files.
The Forms
Saturday, February 12, 2011
The Rock Shop
Brooklyn, NY, USA
Source: SBD + DPA 4021's > Edirol R-44 (WAV @ 24-bit/48kHz)
Lineage: R-44 (WAV @ 24-bit/48kHz) > USB > PC > Adobe Audition (mixdown, adjust levels, downsample, dither, tracking) > WAV (16-bit/44.1kHz) > Trader's Little Helper (check/fix SBEs, FLAC conversion) > FLAC ( level 8 )
The Forms engineer: Jeff Stultz
The Rock Shop house engineer: Shane
Recorded and produced by: Johnny Fried Chicken Boy
SETLIST:
[Total time: 37:02]
01. Knowledge In Hand
02. Derealization
03. Fire To The Ground
04. Untitled
05. All Souls Day
06. Finally
07. [banter]
08. Haha-So-Far
09. Same Path Mantra
If you download this recording, we expect that you will PLEASE SUPPORT The Forms, visit their website, visit their MySpace page, and purchase their new album, 'Derealization', and their other official releases and merchandise.