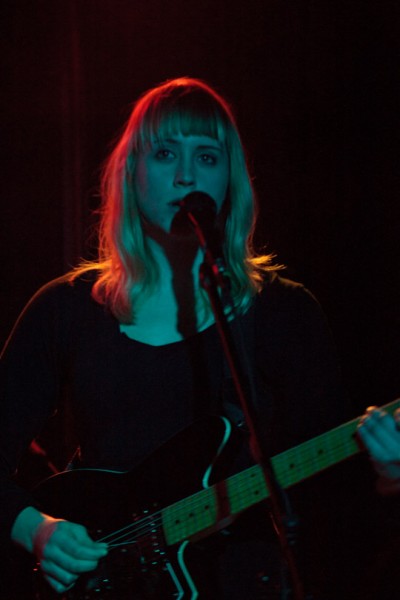 [Photos courtesy of Alexis Maindrault for A Heart Is A Spade]
Fresh off of three opening gigs at the Beacon Theater for The Decemberists (one of which we recorded), Baltimore's Wye Oak gave their dearest fans a special night of music at the intimate Rock Shop. Fans had braved the cold and snow to pack the house for this outstanding performance, which featured a number of new songs from the band's forthcoming album on Merge Records, Civilian. The duo of Jenn Wasner (on vocals and guitar) and Andy Stack (drums, keys and backup vocals) have been making their folk-influenced indie rock since 2006, and Civilian will be their third full-length. Wasner and Stack seemed to be thrilled to play for not only, as they put it, fans who were actually standing up, but for a crowd that was largely composed of people they knew. They rewarded us with a preview of some fantastic new songs, many of which were played for the first time. Wasner's voice was even more evocative live than it is on record, and Stack's one-handed drumming (while he plays the bassline on the keyboards) was amazing to watch in person.
Civilian will be released on March 8 on Merge Records.
I recorded this set from our usual spot in the venue with the DPA microphones and a crystal-clear soundboard feed. The results are outstanding. Enjoy!
Stream "For Prayer":
Audio clip: Adobe Flash Player (version 9 or above) is required to play this audio clip. Download the latest version here. You also need to have JavaScript enabled in your browser.
Direct download of MP3 files [HERE]
Download the Complete show in FLAC [HERE].
Wye Oak
2011-01-27
Rock Shop
Brooklyn, NY USA
An acidjack master recording
Recorded and produced for nyctaper.com by acidjack
Equipment: Soundboard+DPA 4021>Edirol R-44 [Oade Concert Mod] (24/48)
Position: LOC, at soundboard, mics at 8.5ft
Mastering: 2x24bit/48kHz WAV>Audacity (EQ each source, set fades, tracking, smooth peaks, amplify and balance, downsample)>FLAC ( level 8 )
Tracks [Total Time 58:05]
01 The Alter
02 That I Do
03 [banter]
04 My Neighbor
05 [banter2]
06 [Emmylou – not posted]
07 My Creator
08 [banter3]
09 Holy Holy
10 [banter4]
11 Fish
12 [banter5]
13 Civilian
14 [banter6]
15 Hot as Day
16 I Hope You Die
17 [encore break]
18 If Children Were Wishes
19 For Prayer
If you download this recording from NYCTaper, we expect that you will PLEASE SUPPORT Wye Oak, visit their website, and purchase Civilian, available for pre-order from Merge Records here.