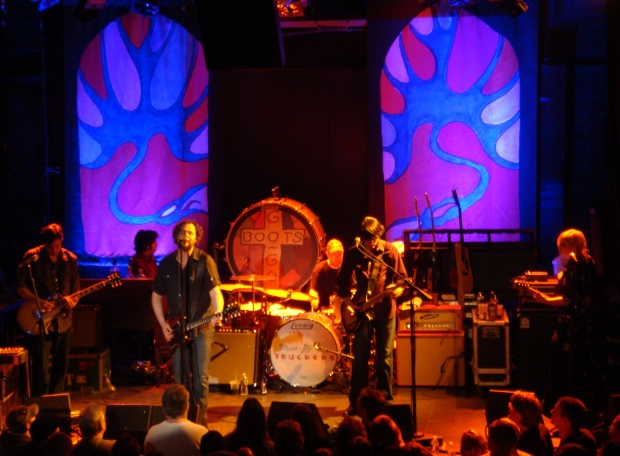 [photos by Johnny]
Being the standard-bearers for Southern rock can't be an easy job and Drive-By Truckers not only do it well, but manage it with a smile on their faces.  Constant touring and marathon concerts that would hospitalize lesser people appear to make this group thrive and get better every time I've seen them perform.  Billed as the release show for their new album that had officially hit stores that day, the beautifully dark 'Go-Go Boots', the band played nearly all the tracks from it during the course of this two and a half hour gig.  Both the disc and the night served as somewhat of a tribute to late songwriter/musician (and Patterson Hood family friend) Eddie Hinton who was honored not only with two covers of his songs, but also a beautiful take on the seldom-played "Sandwiches for the Road".  In addition to a few acoustic spots, DBT filled out the set with tracks from all of their albums.  It made for an impressive night showcasing their outstanding and diverse talents.
Set up in our usual spot next to the soundboard in the balcony, the mix on this night was exceptional.  And in the Bowery Ballroom where it's usually great, that's saying something.  The resultant recording is excellent and ranks as one of the best I've personally ever pulled.  Enjoy!
Stream "Dancin' Ricky":

Audio clip: Adobe Flash Player (version 9 or above) is required to play this audio clip. Download the latest version here. You also need to have JavaScript enabled in your browser.

Stream "Gravity's Gone":

Audio clip: Adobe Flash Player (version 9 or above) is required to play this audio clip. Download the latest version here. You also need to have JavaScript enabled in your browser.
Download the FLAC/MP3 files and stream this entire show on the Live Music Archive [HERE]

Drive-By Truckers
Tuesday, February 15, 2011
Bowery Ballroom
New York, NY, USA
Source: AUD > AKG C 414 B-XLS's + DPA 4021's > Edirol R-44 (WAV @ 24-bit/48kHz)
Lineage: R-44 > USB > PC > Adobe Audition (mixdown, adjust levels, downsample, dither, tracking) > WAV (16-bit/44.1kHz) > Trader's Little Helper (check/fix SBE's, FLAC) > FLAC Level 8
Recorded and produced by: Johnny Fried Chicken Boy
SETLIST:
[Total time: 2:39:27]
01. intro [Heavy Makes You Happy (Sha-Na-Boom-Boom)]
02. I Do Believe
03. Go-Go Boots
04. Marry Me
05. Puttin' People on the Moon
06. Cartoon Gold
07. I Hear You Hummin'
08. The Thanksgiving Filter
09. 3 Dimes Down
10. [banter]
11. Tales Facing Up
12. Dancin' Ricky
13. The Weakest Man
14. [banter]
15. The Deeper In
16. Pulaski
17. [banter]
18. Sandwiches for the Road
19. Women Without Whiskey
20. Santa Fe
21. A Ghost To Most
22. Where's Eddie [*]
23. Everybody Needs Love [*]
24. Birthday Boy
25. Sink Hole
26. Gravity's Gone
27. Ray's Automatic Weapon
28. Zip City
29. Lookout Mountain
30. [encore break / banter]
31. Used To Be A Cop
32. Get Downtown
33. (It's Gonna Be) I Told You So
34. Mercy Buckets
35. Shut Up and Get on the Plane
* Eddie Hinton song
If you download this recording, we expect that you will PLEASE SUPPORT Drive-By Truckers, visit their website, visit their MySpace page, and purchase their new album, 'Go-Go Boots', and their other official releases and merchandise.