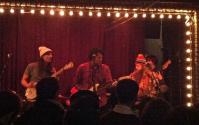 All Southern rock is drinking music to some extent, and that was certainly the case this past Saturday night at Union Pool in Brooklyn as Athens, GA's Futurebirds played to a packed, rowdy house. The band came on the scene in 2009 with a self-titled debut EP that showed significant promise, following that up in 2010 with their full-length debut, Hampton's Lullaby and a visit to SXSW. Keeping company with bands like Drive-By Truckers (as well as Brooklyn favorites Motel Motel), Futurebirds play music that incorporates classic country elements but reaches a broader audience, partly on the strength of their songwriting, but also by signaling that they are more than simple nostaglists. Futurebirds songs serve up heavy doses of pedal steel and banjo (see "Johny Utah" for example) but they also reference the broader songwriting of artists like Neil Young and even the psychedelic scene for which their hometown of Athens is rightly famous. This show came on the heels of what was no doubt a wild Friday night at Mercury Lounge, and the band seemed ready for another big weekend night, giving us a high-energy hour of singalong-worthy songs from the album and the EP, as well as an exuberant cover of Stevie Nick's "Wild Heart." The last two songs of the main set were the longer, slower-building "Ski Chalet" which flowed right into the all-out rocker "Yur Not Ded." In relative rarity for a Union Pool show, the band seemed to actually respond to the howls for an encore (one didn't seem planned) with the rocker "Americle."
I recorded this set with a soundboard feed from the Union Pool engineer coupled with the Schoeps microphones on the balcony. Because the acoustics of the room can be challenging, the recording leans more heavily on the soundboard feed, which was nicely balanced. All files are tagged for easy importing into iTunes. Enjoy!
Stream "Dirty D":
Audio clip: Adobe Flash Player (version 9 or above) is required to play this audio clip. Download the latest version here. You also need to have JavaScript enabled in your browser.
Stream "Wild Heart":
Audio clip: Adobe Flash Player (version 9 or above) is required to play this audio clip. Download the latest version here. You also need to have JavaScript enabled in your browser.
Download the FLAC and MP3 files and stream the entire show on the Live Music Archive [HERE]
Follow acidjack on Twitter
Futurebirds
2011-02-26
Union Pool
Brooklyn, NY USA
An acidjack master recording
Recorded and produced for nyctaper.com by acidjack
Equipment: Soundboard+Schoeps CMC6/Mk41>Edirol R-44 [Oade Concert Mod] (24/48)
Position: LOC, on balcony, pointed at stacks
Mastering: 2x24bit/48kHz WAV>Audacity (mixdown, downsample, set fades, tracking, light compression, smooth peaks, amplify and balance)>FLAC ( level 8 )
Tracks [Total Time: 1:04:02]
01 Battle For Rome
02 banter
03 Johnny Utah
04 banter
05 APO
06 banter
07 Dirty D
08 Sam Jones
09 banter
10 Wild Heart [Stevie Nicks]
11 banter
12 The Dog
13 Red Top Girl
14 Ski Chalet
15 Yur Not Ded
16 encore break
17 Americle
If you download this recording from NYCTaper, we expect that you will PLEASE SUPPORT Futurebirds, visit their Facebook page, and purchase Hampton's Lullaby directly from Autumn Tone records (on CD or in any download format) here.